Thanks to the pandemic, most digital companies are now fully open to remote and hybrid work – and they realize the value of working with freelancers more than ever. After all, the tools and new attitude were there, everyone was already working remotely, so why not go with the new flow and scale the team more easily? Thanks to the change of mindset among leadership across the world, finding freelancing gigs has become a lot easier. However, this doesn't mean that you can rest on your laurels, hoping that the right opportunity will find you on its own. You have to be proactive. Let me tell you how.
To help you navigate the freelancing world, I've decided to divide this section into four stages – from deciding on your initial goals, all the way through to making sure your freelance career is a fruitful one.
Before you start freelancing
Let's begin with the absolute basics:
1. What are your skills?
To understand how you can market your abilities best, create an inventory of all the languages, frameworks, and tools you're familiar with. Make sure to note the proficiency level for each skill.
Next, write down any soft skills that come to mind. Are you a team player? Or maybe you're great at crisis management and problem-solving? Don't be modest about your strong sides – these are the things your potential clients will want to know upfront.
2. Establish how much time you have for freelance work
Before you start searching for freelancing gigs, you should know your availability. Here are a few questions that you should get answers to: 
How many hours a week are you willing to dedicate to freelancing work?

Would you rather take part in one full-time project or are you more keen on joining a few smaller ones? 

Are you more interested in long term or short term cooperation? 

Are time zone differences an issue for you? 
After figuring out the above, you'll have to ask yourself the million dollar question – "what is my rate"?
3. What is your rate?
How much do you want to earn might seem like a pretty straightforward question. However, before you put a price tag on your services, I recommend that you engage in some market research.
For instance, consider how scarce your skills and professional experiences are on the market. Will the demand for your expertise grow year over year? This could indicate that you could keep your rates on the high-end. 
That being said, to make sure you don't scare clients off, look at how other freelance developers with a similar profile price themselves. Beware of drawing any conclusions from massive marketplaces like Fiverr or Upwork, where rates can be purely coincidental. Instead, consider joining a software development freelance community like MVP Match, which will give you the most realistic estimate of what your rates could be. And, speaking of Match, this leads us to the next stage – acquiring clients.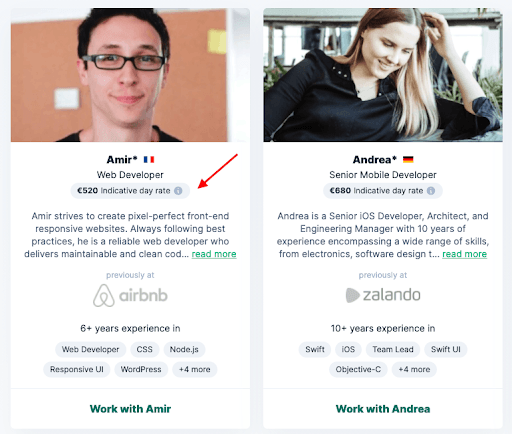 Getting new clients
Freelancers that work on their own have to wear multiple hats – sales included. You're responsible for finding your own clients. If you prefer to focus on your projects and you don't want to waste your time on logistics or sales/marketing activities, you can decide to join a freelance marketplace.
4. Sign up to the right marketplace
If you want to get more jobs in a shorter time period, you should  sign up to one (or a few) marketplaces/communities that handle finding the best gigs for you. 
While there are plenty of options that you can choose from, we at Match live to connect best talent with ambitious companies every day - and as someone who can speak from their own experience, I'd be doing a dishonor to the team by not pitching you the idea to join us. Let me keep this short and sweet:
Match platform and operating model is built to find projects that perfectly match your skills – the 'match' part in "MVP Match" didn't land there by accident!

You'll be in good company. All freelancers we work with are fully vetted and verified for their skills – it's a marketplace for the top domain experts only. This also means you'll have plenty of opportunities to learn from others.

We work with hundreds of brands including Oliver Wyman, PwC, TaxFix, and many hyper-growing companies. The projects we offer are exciting and ambitious. 

You can choose a full-time, part-time, remote, or hybrid project, and change your preferences based on your availability over time. 

You don't have to worry about admin. We'll take care of all formalities including contracts, invoicing, and time tracking.
5. Show off your expertise
If this is the first time you've ever considered freelancing as a career, then you might not have focused much on making a name for yourself online. Suffice to say though, now is the time. Here are some of my freelancing tips that will help you build up your authority and recognition:
Contribute to open-sourced projects on GitHub. This is arguably the best way to prove your expert status quickly. You'll especially find it worthwhile, if the projects you've worked on in the past were covered with an NDA (so, you can't use them in your portfolio).

Engage in conversations on StackOverflow and Reddit. While GitHub lets you show your skills in action, StackOverflow and Reddit software development threads are a perfect way to prove your knowledge, creativity, and problem-solving. You can leverage your presence on both of these communities and send links to your profiles to any leads that might need extra convincing. This brings us to the next point.

Build out your profile on GitHub and StackOverflow. Let's imagine that a potential client comes across your answer to a question on StackOverflow. They're impressed by the solution you've proposed in your response, and they decide to click through to your profile to learn more about you. When they do so, they see… well, nothing. Just a generic avatar and not a word on who you are or how to contact you. This is a lost chance and a mistake you can't afford if you're serious about a freelancing career. I recommend taking a look at how some of the most reputable developers advertise their services. For instance, here's a StackOverflow profile of a user, who's among the top 0.01% of the community and is available for projects: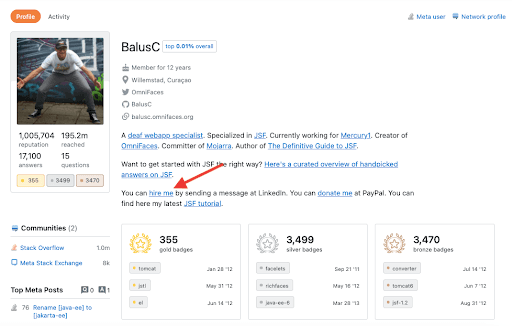 Attend events and conferences. You can either seek speaking opportunities or be a regular attendee. It will give you a chance to participate in discussions, familiarize yourself with other participants, and show off your knowledge. This, in turn, might help you land a project.
6. Create a website to market yourself (Bonus points)
A good way to differentiate yourself and to show off your skills (especially if you're a web developer or a UX/UI designer) is to create a website to promote yourself. You can display your work samples, include a few client testimonials, and talk about your skills as well as projects you're interested in. Alternatively, you can build your website around knowledge sharing – as is the case with famous Stack Exchange C# developer Marc Gravell. The bottom line is to remember to also include a contact form or an email address that will let your potential customers get in touch with you.
I fully realize that building a website can be time consuming, so treat this freelancing tip as a bonus. Over time, though, doing this will definitely make a difference. Make yourself visible
This probably goes without saying, but to find freelancing projects you need to let others know that you're open to new collaboration opportunities. Don't stop at setting "available for work" in LinkedIn settings. Create an appealing headline that will clearly show that you're seeking freelancing opportunities. Just make sure it includes your specialty, for example, "Experienced freelance Python Software Developer working with global tech brands". Also, ensure that your skills are up to date, as this is one of the job search criteria.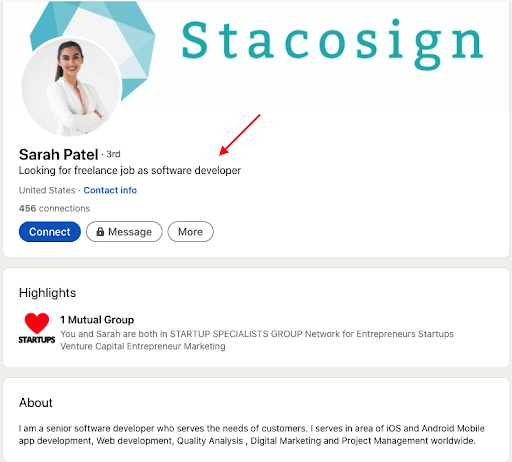 If you're active on social media channels other than LinkedIn, then use hashtags related to your area of expertise. This will make finding you a lot easier. Making sure that your social media profiles are squeaky clean is also vital. After all, 92% of companies use social media for hiring.
7. Grow your professional network
Being a freelancer doesn't mean you have to be a lone wolf. Quite the contrary! Now's the time to build valuable relationships with other product development experts. In particular:
Freelance developers in the same niche. Don't consider them as competitors for clients. Rather, think of them as your tandem partners. It's worth letting them know that you're open to collaboration. If the right opportunity comes your way, you'll be able to work on the same projects together. Also, if one of you is fully booked, you'll be able to refer clients to one another.

Developers with complimentary skills. Are you a front-end developer? It might be worth partnering up with a back-end developer to offer clients full-stack services. This leads us to the next freelancing tip. 

Digital product designers. As design comes first in the product development process, it's possible that clients will ask their designers to recommend an experienced software developer. By having many product designers in your network you increase the odds by getting directly approached thanks to the relationship you already have established.
Effective collaboration with customers
Managed to find a new freelancing project? That's fantastic! Let's now take a look at how you can effectively collaborate with your client.
8. Understand what your clients' goals and needs are
The key to successful collaboration is assuring that the work you do provides value to the client. And in order to do that, you have to understand their needs and goals. You're probably thinking – "Right… but how do I figure that out?" You can approach this in two ways:
Do online research. Check their website, social media profiles, past projects. You can even read a few product reviews to verify what their customers say about them. It will help you spot any recurring problems and suggest solutions. 

Talk to your client directly.  This is the best method, and also the quickest one. You can ask as many questions as you want, and the insights you get won't be open to interpretation. Just make sure to come prepared and not waste your client's time by asking about things you should already have knowledge about. 
If you meet your customers' needs, and they're happy with your work, high chances are they will want to collaborate with you long term. 
9. Make sure you communicate effectively
Effective communication is easily one of the top soft skills you'll need to find long-term freelance success. It's the key to a fruitful project and delivering timely results. On the flip side, a lack of clear communication can give rise to a series of problems like poor design, wasted money, bad coding, and lost time. As mentioned above, as a software developer, it's your job to ask questions that will help you better understand what your client expects. This involves: 
Explaining complex technologies and concepts in a way that can be easily understood by the client,

Regularly asking questions to ensure everyone is on the same page,

Agreeing on the deadlines and budgets,

Using various communication tools, including those that allow for face-to-face communication. 
Now, it's time to discuss your long-term perspective.
Looking forward into the future
Though freelance work comes with its set of uncertainties (I guess that's the thrill of it, to some extent?), there are steps you can take to make sure that you have a steady stream of clients. Here are a couple freelancing tips I recommend you follow:
10. Focus on developing skills that are in high demand
Look at the top tech trends. How are certain languages and frameworks evolving? Also, which technologies are currently dominating the business world?
As of 2021, for instance, disciplines like AI, ML, and Data Science are all in high demand and showing no signs of stopping. These types of projects require developers who are proficient in a number of programming languages, such as SQL, C#, Python, Java, and R.
Ask yourself what skills you possess today, and how – given the top tech trends – you could develop them in the years to come.
11. Consider top paying technologies
The last freelancing tip I'd like to share with you is learning what the top paying technologies are. This will help you with project selection, provided that you have the necessary skills and expertise to work with these technologies. If you don't, you can always learn them rather quickly with many of the available online learning platforms. 
According to the recent survey by StackOverflow, when it comes to scripting and programming, Clojure has the highest median salary ($95k), followed by F# ($81,037) and Elixir ($80,077).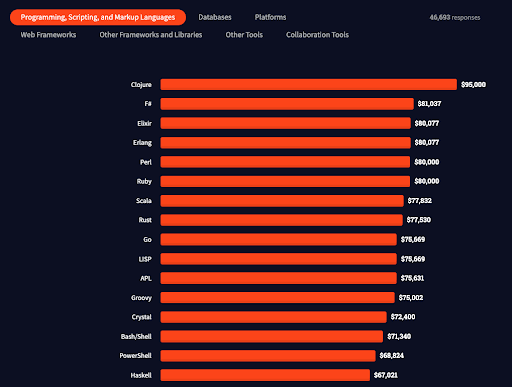 If you want to check what the remaining technologies are, then give this report a read.
Follow my freelancing tips to have a good start
At first, becoming a freelance software developer might seem like a complex process. However, it doesn't have to be, provided that you have a plan. Follow my tips from this list – from putting together your offer all the way through to strategizing your future development – and you'll see how rewarding of a journey it can be (both in a metaphorical and literal sense).
Want to see how MVP Match can help you gain freelancer experience? Sign up now!