How many of you have a well-thought-out process for resigning from your job and finding a new one? A lot of us decide to leave without having a plan for what to do next. While we all know that we need to update our CVs, some of us wonder "now what?".
Here's a list of things you need to consider before you decide to leave your current company.
Thinking of quitting your job? Here's what you need to do
For clarity, I've divided our recommendations into two main stages – the 'before' and 'after' you've decided to quit.
Before you leave your current job…
1. Understand why you want to quit
Feeling like you've hit a dead-end in terms of career development? Or, maybe, you're working under a manager who's hard to communicate with? 
It's important to get to the bottom of this – after all, you don't want to realize that it was an emotional act and regret leaving. Nor do you want to rush your decision on where to work next. 
If you can picture yourself staying with your current employer but there's a situation that simply keeps bugging you, evaluate if it can be resolved in any way.
You might want to take a couple of days off to give yourself time to rest and look at your situation from a fresh perspective. 
By analyzing what makes you want to jump ship, you'll have a sense of clarity of what you're missing and would love to see in a future employer.
2. Check if you can afford an employment gap
Before you part ways with your current employer, make sure that money won't rain on your career parade.
A software developer friend of mine has once told me that they never quit their job unless they've got a separate fund of at least three salaries put away for any bumps on the road.
Of course, everyone's career change circumstances will be different. You might already have another job lined up, or leave in an 'ASAP mode' and spend a couple of weeks or months before finding the right role. 
The bottom line is to prepare for the unexpected – any career change, even one to an employer whose offer looks perfect on paper, comes at a risk.
3. Set yourself as 'open to opportunities' on LinkedIn
You can tick the 'open for work' box on your LinkedIn profile to let hiring managers from other companies contact you with offers. Doing this will take a few seconds, and doesn't require you to be absolutely sure you're quitting yet. The best part is you can make sure your new status isn't visible to your current employer (smart move, LinkedIn!).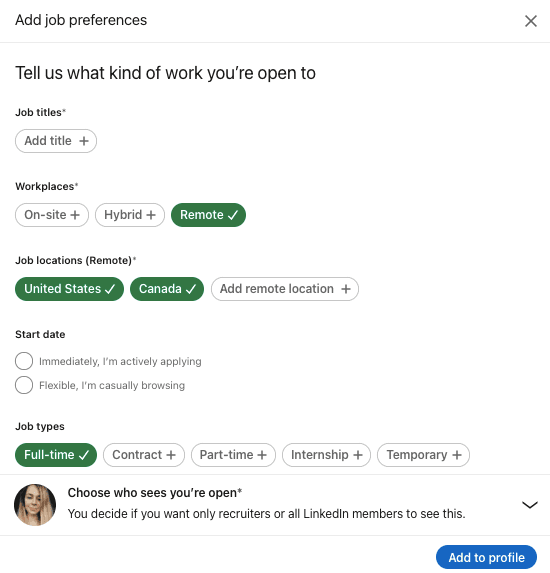 If you've signed with hiring agencies in the past (for example, those hiring experts in your niche), it's also a good idea to drop them a quick message to let them know you're back on the market.
4. Keep track of your successes 
Whenever I switch jobs, I start keeping track of all the projects I am involved in – including their objectives, my main responsibilities, as well as what I managed to achieve. If you hold a very dynamic role and participate in a variety of projects it can be hard to remember all your accomplishments. But if you write them down regularly, then creating your CV and answering the question "What was your biggest success?" during the job interview will be easy peasy!
5. Check if there are any roles that fit your profile 
Humans are emotional creatures, and occasionally we make spontaneous decisions dictated by our current emotional state. As I've mentioned earlier, it's best to avoid that while deciding whether to quit your job or not. Give it some thought and before you hand over your resignation check the state of the job market. Are there any positions that you'd like to apply for? 
It's worth keeping in mind that January and February are considered the best months for seeking new opportunities, which makes total sense. Recruiting budgets are already agreed on and people are back to work from vacation, ready to roll up their sleeves and find the best talent. 
I understand that sometimes you might be so unhappy in your current role that you're dying for a change. But if you can wait just a little bit until more opportunities come around then try to do so – it's good to have options, right? 
6. Show off your expertise and network
Tech experts are in high demand and LinkedIn is a great place to show your knowledge. Whenever you see a post that's relevant to your area of expertise be sure to share your insights. If you do it regularly, people will start noticing you, and your effort will eventually pay off. You might get a job offer, or become an influencer, who knows! 
Don't limit yourself to commenting on someone else's posts. If you have something interesting to share like: 
a tip on how to solve a specific problem

a mistake you made, and what you learned from it

or any success stories
Write about them on LinkedIn, and invite others to join the discussion.
Once you've officially decided to resign…
7. Write down what you're looking for in your new role
If I could only recommend one thing to do (which, luckily, is not the case), then it would be this – building an awareness of what you actually want in your next job.
You'll probably already have a rough idea of deal-breakers, nice-to-haves, and must-haves in your mind. Write them down and use them to screen potential employers. 
Now, I'm not here to tell you that you should prioritize, say, a high salary or training stipend over company retreats to exotic locations. Everyone will have their own set of priorities, but here are some ideas of the factors you can rank:
A higher salary

A more attractive benefits package. Which ones do you need, and which ones can you live without?

Work model (remote, hybrid, or in-house)

A company culture aligned with your own beliefs

Stipend (budget for training, conferences, or even higher education)

An exciting industry (for example, one that's disrupting the status quo).
I'm sure you get the idea.
Knowing these will help you filter job ads. You'll also be able to tell recruiters which requirements are necessary early on in the recruitment process.
8. Speak to your manager ahead of time
Every contract has a notice period – its length will vary. If it's only a month, it's worth letting your manager know a bit earlier that you'll be jumping ships. It will give them time to organize themselves and find a replacement or figure out who from the team can temporarily cover for you. If you hold a more senior position, hiring a specialist that will take over your responsibilities might be even more time-consuming. That's why it's key that you tell your manager you're leaving as soon as you've made the decision. 
9. Get the word out there through your network
Reach out to your friends and see if there are any interesting opportunities in the companies they work for. See something interesting? Go for it – employees who come referred by others stay with their new company the longest (a 45% retention rate, compared to 33% from career sites and just 22% from job boards). 
​​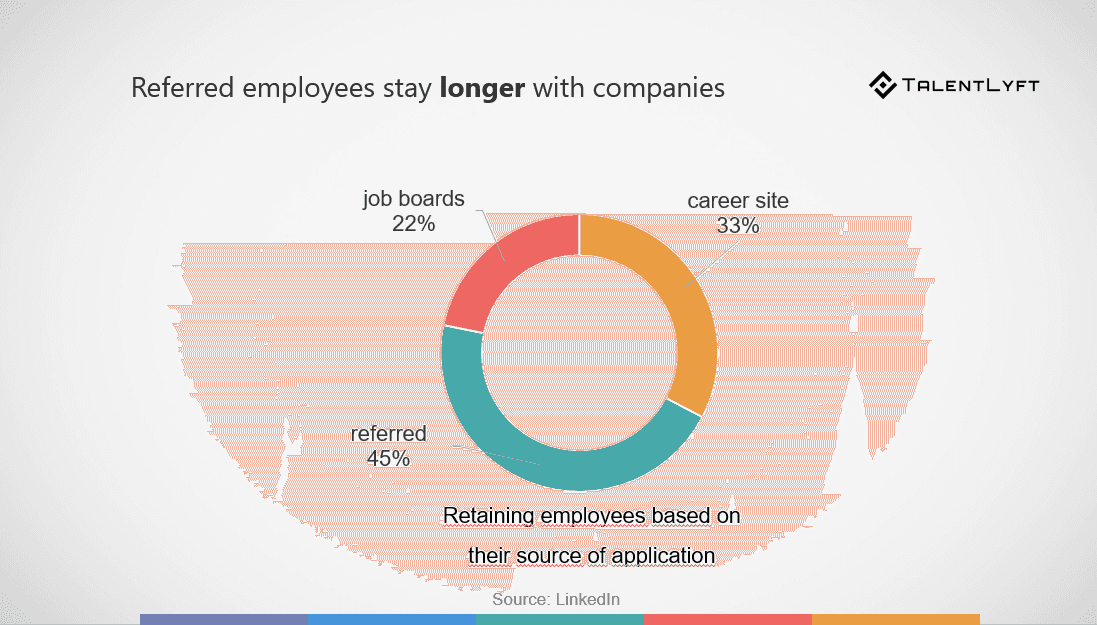 Source: TalentLyft
It makes sense since your friends will be a source of first-hand, reliable opinions about the company. Plus, you can use their recommendations if you choose to apply – a win-win scenario if you ask me.
10. Finish whatever you've started at your previous job 
Even after informing your team leader that you'll be changing jobs, it's crucial to make sure that you don't leave any projects unfinished, especially the most important ones. No manager likes when their ex-employees leave a mess. If you don't want to burn bridges, try to finish as many tasks as possible, and don't take on any new projects. To make things a little bit easier you can also: 
Create handover materials – if you don't finish all the work you planned to do, you can always create a document listing what you delivered and what still needs to be done. It will be much easier for your successor to pick up from where you left off. I am sure your manager will greatly appreciate it. 

Leave your private contact details in case of an emergency – your previous employer might have some questions after you've moved on – even despite your efforts into creating the most comprehensive handover docs possible. It's customary to leave an email or phone number they can use as a last resort, in case any urgent or complex issues come up. This will let you maintain a good relationship with your past company.
Speaking of showing your goodwill, this leads me to the next point.
11. Be honest during the exit interview
You might be tempted to rush through the exit interview with HR or your direct manager, overwhelmed with all the other tasks on your list. However, based on my experience, I recommend giving it some consideration.
When I was leaving a previous employer, I had an hour-long call with the Head of People. They've sent me a list of about 20-30 questions beforehand, and I've prepared answers for all of the ones that applied to my role. I was clear that the main reason for me leaving was a misalignment between the job description and what my daily work was about. I've also listed a couple of other things that – whoever got hired as my replacement – might struggle over as well. We had a very honest conversation and parted ways on good terms.
Little did I know, I've ended up working with the very same Head of People several years later – this time, I was a service provider for a company they were a Co-Founder of. She remembered our conversation, which helped us enter our new work relationship in good spirits. The world is small, so it's always worth giving a little extra effort.
Even if you decide to leave, you can still influence how the company is evolving and shed some light on issues that others might struggle with as well.
12. Ask your colleagues and your leader for honest feedback and tips for the future
Nobody's perfect, and we should all ask for feedback to improve ourselves. Your colleagues are a great source of information, so before you quit your job you can ask them about: 
what they enjoyed the most while working with you 

and what you should do to become a better teammate or a better manager.
Don't treat it as criticism but as a way to become a better version of yourself. Here is a bonus tip: make a list of all the questions you'd like to ask, and send them to your colleagues so they can prepare themselves for this conversation. Asking questions on the spot might be stressful as most people need time to think about what they want to say. 
13. Ask for recommendations 
Recommendations can work wonders for your credibility, and LinkedIn is the perfect place for them. Whenever I finished a project, which proved successful, I asked my manager and other people from my team to write me a recommendation on LinkedIn. They never said no – and why would they if I delivered on the agreed objectives.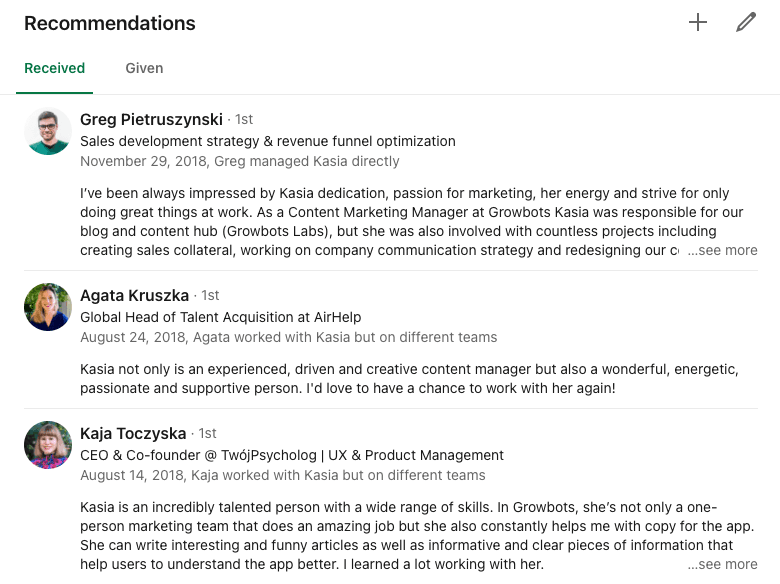 Asking for a reference after quitting your job can be more difficult – people might be upset you left, or they might simply be too busy to write you one. Don't miss out on this opportunity – recommendations will come in handy when you start looking for a new work adventure. 
14. Consider joining MVP Match
Being a full-timer isn't your only option. You can also consider becoming a contractor and getting involved in more diverse projects. And if you choose this path, then you should definitely check out MVPMatch. You'll get access to exciting projects, perfectly tailored to your skillset and you won't have to work on any paperwork. The best part is you'll get the opportunity to work with and learn from some of the brightest minds in the tech world.
Make things right before quitting your current job
Leaving your job can't be a leap of faith. Before you decide on quitting, make sure you're clear on the reasons and your career objectives. It's a good idea to start small, and begin by setting yourself to 'open to work' on LinkedIn, or asking friends around whether their companies are looking for new employees. Once you've informed your manager about your plans, make sure you're leaving the company on good terms – prepare any handover documents and stay available for questions.
And if you're keen on seeing if you could make a living as an independent contractor, then give us a try. Apply to our elite freelancer community!