High chances are, you've come across quite a few job postings within the NFT niche in the last year or so. Or, like me, you might have seen a few friends pivot to NFT from other industries, never looking back. But what's the deal with NFT, really? Is it the tech revolution many sources online lead us to believe? And, career-wise, is it a promised land for developers, designers, and other talented folks?
In this guide, I will help you decide if NFT is the right career direction for you. And if you decide to give it a go, then you'll find a ton of advice that will help you break into this world. Ready? Buckle up and let's go.
Why is it worth building your career in NFT?
Before I answer this question, I'd like to begin with a few words on what an NFT actually is. Short for 'non-fungible token', it's a unique data asset that exists on a blockchain. To give you a real-life analogy, your NFT is like a gold bar you hold a certificate for, and the blockchain technology that protects it is like a well-guarded treasury. 
By saying that each NFT is 'unique', I mean that it's yours and yours only. Unlike cryptocurrencies, these tokens have a one-of-a-kind construction and hold no direct monetary/commercial value. They can't be broken down and sold partially. Instead, they function like collectibles, and come in the form of various digital artwork or other visual, 3D assets. If you're wondering "why did these non-fungibles become so popular?", then Investopedia has a perfect answer – "tokenizing these real-world tangible assets allows them to be bought, sold, and traded more efficiently while reducing the probability of fraud."
The market is growing at a fast pace
The NFT is a great space to be in right now, as it's growing at an impressive pace, and is already nearly the size of the traditional art market. Chainanalysis reports that the marketplace for art digital pieces based on blockchain technology was worth $41 billion by the end of 2021. If we also added digital collectibles based on cryptocurrency other than Ethereum, then this number would be even higher. 
Here are a few additional stats, which clearly show the NFT potential:
Every week between $10-20 million worth of NFT is sold 

One NFT can be worth millions! The most expensive one ever sold was PAK's NFT Artwork 'The Merge', which was purchased for $91.8 Million

The market of collectibles is the fastest growing, which works in favor of the NFT space 

250,000 people use OpenSea to trade their collectibles meaning that there is still a lot of room for growth, considering its market size. 
Trends & predictions
Based on the current trends and predictions, the future of NFT looks promising! 
The use of NFTs is on the rise 
NFT is becoming more accessible to people thanks to intertwining the digital world with the physical one. It's no longer viewed as reserved for tech geeks or early adopters only. It's seen as a way to make experiences more unique and valuable to people, which greatly boosts their engagement. For example, in September 2021, Dak Prescott, the footballer at Dallas Cowboys turned his autographed shoes and football shirts into a collection of NFTs that his fans were able to buy. What we're seeing now is just the beginning, and there are many more use cases for the NFT technology. 
NFTs will be at the heart of metaverse
In case you haven't heard of it yet, the metaverse is a virtual reality that aims to act as an alternative or extension to our real-life surroundings. By using a metaverse-based app, users can put on digital avatars and enjoy a variety of activities. Given that the tech is heavily based around 3D, AR, and VR, metaverse will primarily be accessed via goggles. So, what can one do once they've entered this alternative universe? A ton! You can not only play games, but also meet up with friends, attend concerts, or even sell and buy digital collectibles which are (yes, you've guessed it!) based on NFT technology. I'm sure you can imagine the monetary potential metaverse holds, especially since non-fungible tokens make trading virtual assets possible.
Tech leaders are already entering the NFT space
If you're still a bit reluctant about NFTs long-term career potential, then I think this point here will do the trick! It's not just a small group of aficionados who are raving about non-fungible tokens. We're also seeing some of the top tech leaders invest or even enter the scene themselves.
One of the top figures who've decided to go all-in on NFT is none other than Jack Dorsey, who resigned from his position of Twitter CEO to run Block (formerly known as Square). Since doing so in late-2021, Dorsey has already made some big business decisions, including purchasing streaming service Tidal with the intention of introducing music NFTs on the platform. 
Also, fun fact: just a few months before stepping down as Twitter CEO, Dorsey has sold his first-ever Tweet as an NFT for $2.9 million, with all proceeds donated to Give Directly's COVID-19 relief fund.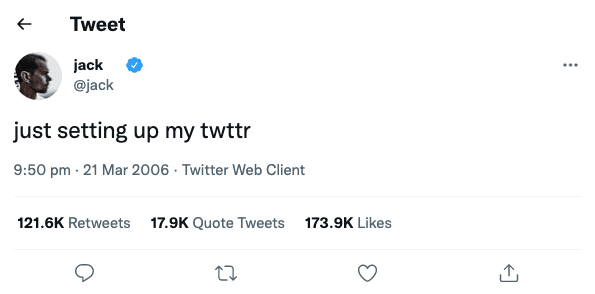 Source: Twitter
A success story (one of many)
While NFT might seem like a space exclusively reserved for the chosen ones, in reality, quite a lot of regular mortals have achieved great success with it. So it's not only dedicated to celebrities or big brands. 
Mad Dog Jones, a self-made artist, is a great example. In 2018 he started to share his digital artwork on Instagram. It quickly attracted a lot of attention and brought him a few great collaboration opportunities with well-known artists, including the photographer Daniel Mercadante and a music duet from Montreal, Chromeo. By the time he entered the NFT space in 2020, he was no longer an anonymous creator, so selling his work on NFT wasn't hard. According to CryptoArt, his artwork is valued at more than $18 million.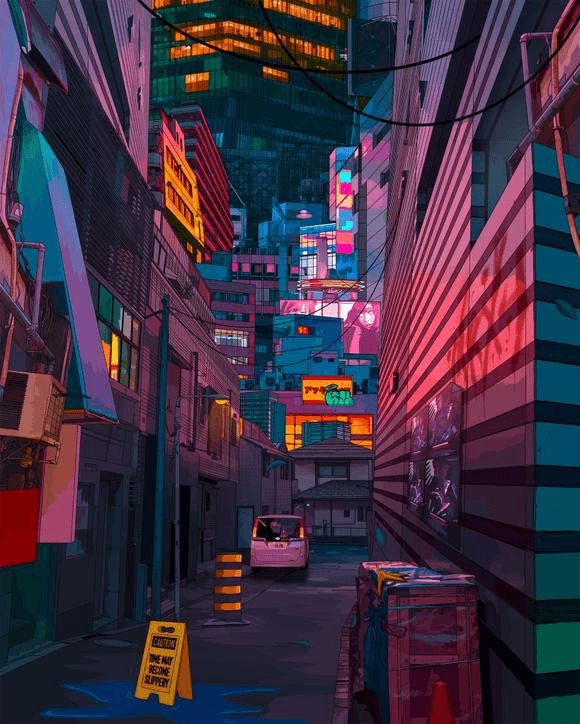 Source: Newsbreak 
In one of his interviews, Jones said that "Having that success on Instagram and in the art world opened a lot of doors for me, I didn't start from scratch and become an artist the day NFTs blew up. I had already been working hard and been present in these online communities so when these new doors opened I had a lot of people already through them".
In August 2021, he sold one of his NFT pieces for $4.1 million. Not bad, right?  
What roles are there in the NFT space?
Time to see how you can fit into the NFT puzzle! In this section, I'll give you a few examples of job postings along with the skills that come up most often.
Whether you're a designer, software engineer, brand manager, or work in a traditional field like art history, there might just be an exciting career path for you!
Software developers
On top of 'standard' tech skills expected of frontend/backend/full-stack developers, NFT devs must have an understanding of (or, better yet, experience in) blockchain, digital wallets, and cryptocurrencies. If you don't have any commercial work in your portfolio, consider contributing to open-sourced projects on GitHub.
Note: As is often the case with other emerging spaces, some NFT brands don't offer full-time roles. Instead, they offer part-time arrangements and are willing to give equity and/or a percentage of revenue as compensation (yes, this means no salary). Suffice to say, if you'd like to work with such a brand, consider treating your NFT project as a side job, and retaining a steady source of income. At least until your company doesn't start generating income. Here are examples of such job offers:


Source: NFT Gigs
Creators
I'm using the 'creator' term for a reason. The NFT scene has demand for a ton of creative roles, such as graphic design, UX & UI, sound editing, etc. 
The skills you need will depend on the role. For example, if you want to become a visual arts' NFT creator, you might need to be skilled in 3D, AR, and VR. But if the NFT project is audio-based (as is the case with the above-mentioned Tidal streaming service) and you'll be selling music, then you'll need to know a thing or two about music production. I'm sure you get the point!
Regardless of the exact creative skill, if you want to become an NFT creator, you'll be looking at the following arrangements:
Contract-based work. For instance, one company on the Find Bacon job site has shared that their "plan is to release up to 10.000 NFTs with up to 500 various traits":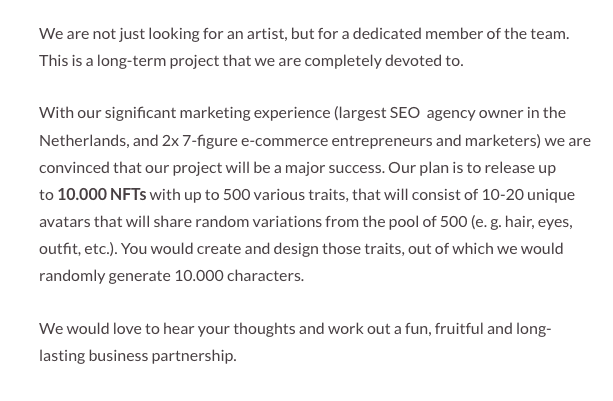 Source: Find Bacon
Full-time work – for instance, for a major company looking to break into NFT and create digital counterparts of their real-life products

Independent creator selling work on a number of marketplaces.
I discuss these career options further in this piece, so stay put!
NFT marketplace managers
As with every other job position in this section, an NFT marketplace manager/business owner will need to have the previous project and/or product management experience. The way you keep your app and business development on track is no different here, and you would be applying Agile methodology, sprint planning, leadership and business skills, and others.
That being said, to put yourself up for success, you must absolutely live and breathe everything CryptoArt-, cryptocurrency-, and digital collectible-related. This means understanding both the technical concepts and business models that are used in NFT, as well as having an awareness of your competitors and how you can make your service stand out in the scene. Here's an example of a job ad that appeared on the Welcome to the Jungle site: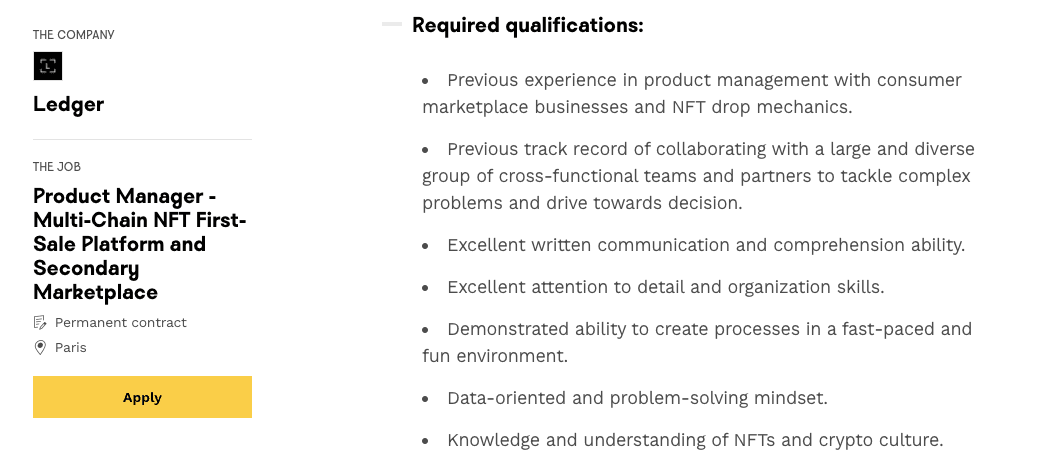 Source: Welcome to the Jungle
NFT Curators
If you ask me, this role is the most exciting new career path in the non-fungible token scene! Why? It calls for skill previously only needed at traditional galleries and museums. As the job title suggests, NFT curators are responsible for bringing the best art/products to the marketplace. 
Here are some of the skills and experiences you need to tick to be considered for the role:
Researching and sourcing artists

Creating long-lasting relationships with creators to ensure a steady influx of new NFT art

Writing curatorial statements

Creating art series or entire, immersive gallery journeys

Producing virtual and/or real-life exhibitions, art fairs, and other NFT-related events 

Managing relations with sponsors and other marketplace partners

Supporting the business development team's initiatives, whenever need be.
Naturally, you can't tread the path to NFT Curator stardom overnight – on top of what you might have been doing in a traditional art/gallery setting, you need to have an interest in CryptoArt and understand the technical concepts behind it.
Here's a real-life job description from the NFT Gigs site: 

Source: NFT Gigs
NFT Ambassadors 
For a while there, I wondered whether I should call this an 'ambassador' or 'influencer' job position. I decided to go with the former, as it better covers all the different types of work you can be doing as an app or brand advocate. Depending on the hiring company, an NFT ambassador could be an external promoter, like a social media influencer, or an in-house employee, like a Community Manager, Partnership Manager, or Social Media Specialist.
After reading quite a few job ads, I've found that people hired in this role are expected to:
Create the hype and boost brand awareness through joining online and/or offline NFT communities, client engagement techniques, doing brand collabs, etc.

Have high charisma and excel in presentation skills, i.e., know how to translate technical concepts into product features and user benefits

Understand how the digital sales funnel functions and support marketing & sales in lead generation and closing sales.
Here's an example of a job listing for the position of "Community Lead" at Rarible: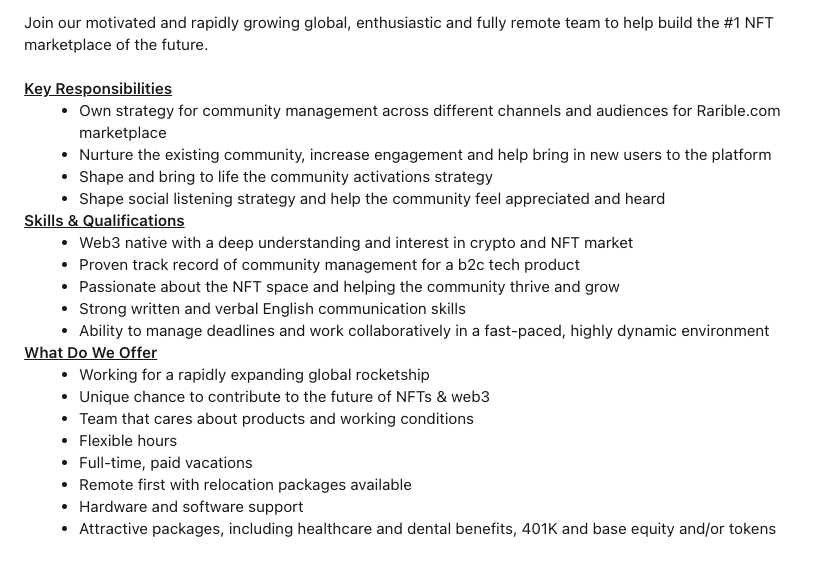 Source: LinkedIn
How to enter the NFT world? 
The tips you'll find in this section relate to all of the NFT career paths described above  – from developers and creators to marketplace managers and curators.
As a starting point:
We've all been a newbie at some point, so if you're new to the NFT world, then I recommend starting with mastering some basic skills. Here is how: 
Develop your skills
Online courses – there are a lot of materials available online, some of which are completely free, so they're a great starting point. You'll be able to check if NFT really interests you, or if they're a temporary fascination. Here are a couple of platforms that you can look into right away:
YouTube videos – irrespective of the role you're interested in, i.e., a developer, creator, or curator, YouTube is a good place to get some NFT insights. Experts not only give you tips on how to succeed, but they also share stories on their personal journeys. There is a lot to learn from them. 
Read NFT whitepapers and documentation – after you understand the basics, it's worth taking a deep dive into more advanced knowledge and information. Here is an entire collection of whitepapers, which you can take a look at. And after you've studied them all, then here is an extra one by Visa.
Inspire yourself with others' career paths – the NFT world is still new, which means that there are many different ways people enter the industry. For some, it's through a well-thought-out plan and months of gaining new abilities and experience. While for others who already have the right skill set, it can come down to pure serendipity. Either way, you'll see how these folks have gotten to where they are if you engage in a little bit of LinkedIn digging and look at their employment history.
If you'd like to avoid LinkedIn stalking, then you can refer to the career paths I've described below. These come from two NFT specialists in my extended network. Notice the two different entry points:#1 Job title: NFT Architect / Java Full Stack Developer
This individual has years of experience in network & server administration, test analysis, software engineering, and IT project management. They have started working in the banking industry back in 2015, and after a few years, moved to a European financial institution, where they were hired as an "NFT Architect". They govern a whole range of processes – from test automation, penetration tests, and dev tools implementation, all the way through to supporting NFT projects as the lead expert.
#2 Job title: Full Stack Developer / Working on an NFT Startup
This person has initially started their software development career in Frontend Development, only to proceed into a Full Stack role. They've contributed to a number of open-source projects, including one related to Ethereum (blockchain/cryptocurrency). This indicates their interest and proves a workable knowledge of blockchain-based technology. They currently run an NFT startup as a side project, and hold a full-time developer role. Their pitch on LinkedIn clearly points to their interest in the NFT sphere, as it encourages companies from the Bay Area to reach out if they'd like to cooperate on a project from an NFT/metaverse field.
Stay up to date with the latest NFT news 
You have to strive to become a good conversation partner. In order to do that you need to be aware of what's happening in the NFT space. Having something interesting to say will make you more memorable, and you'll be able to make good connections more easily (more about it later). Here are a few sources you can check regularly:
When you are no longer a complete newbie:
Start networking – it's a great opportunity to meet industry experts and to learn from them. I mentioned above that it's important to turn yourself into a good conversational partner. It's equally important to become a good listener. The people you meet will have tons of interesting insights to share. Take in every word they say, don't interrupt, just listen. When they're done, ask questions. Of course, if you have something to say, don't hesitate to share your ideas and thoughts. Among others, I recommend looking into the NFT artist community. NFT artists tend to be quite active on social media, especially on Twitter and Reddit. They openly share their knowledge and often engage in conversations with their followers. Take advantage of their willingness to share their insights. 
Choose a platform to sell your work on – this advice goes out to NFT artists. There are tens of different marketplaces you could sell your work on. It would be impossible to name all of them in this piece, which is why I will mention two – Atomic Hub and OpenSea.
As of February 2022, Atomic Hub has created 131 million NFTs. Just between February 17th and 18th, 2022, they witnessed sales of $78,600 (they have a live board up on their homepage, where you can watch real-time stats), which proves that artists are making a buck or two. Atomic was also chosen for their NFTs by some of the more notable franchises, including Nascar and Nickelodeon.
OpenSea, on the other hand, is the most popular NFT platform in the world. It allows you to sell virtually anything you'd like to convert into a non-fungible token. From illustrations and music, all the way through to domain names and photography. You can sell at a set price or through an auction. What makes it great for NFT artists is that it's a "lazy minting" platform – you don't get charged for putting your work onto the blockchain unless it's sold.
Before going all-in on this option though, it's worth mentioning that (as of early-2022), OpenSea has been facing significant backlash for allowing plagiarized art onto the platform. Hopefully, by the time you're reading this, they will have successfully bounced back and eliminated the issue.
Of course, if you feel that you'd be better off on a different platform than either of the two (for example, you know where your niche can be found), go for it! The bottom line is to dedicate some time to learning more about your options.
Try to get an endorsement from an influencer – irrespective of the industry you work in, it always helps to get a little backing from a well-known person in the field, just like Mad Dog Jones, whom I've talked about earlier. If you're a creator or a promoter, you can try to get testimonials from an influencer. However, if you're a developer, it's worth getting support from field experts. This will help you gain credibility.
Don't limit yourself to one field only – I feel that this doesn't get said enough: NFT artists don't have to create hi-end, virtual art, or collectibles only. The fact that people are already buying virtual clothing and interior design items suggests that NFT creators will have the ability to work for a ton of different industries.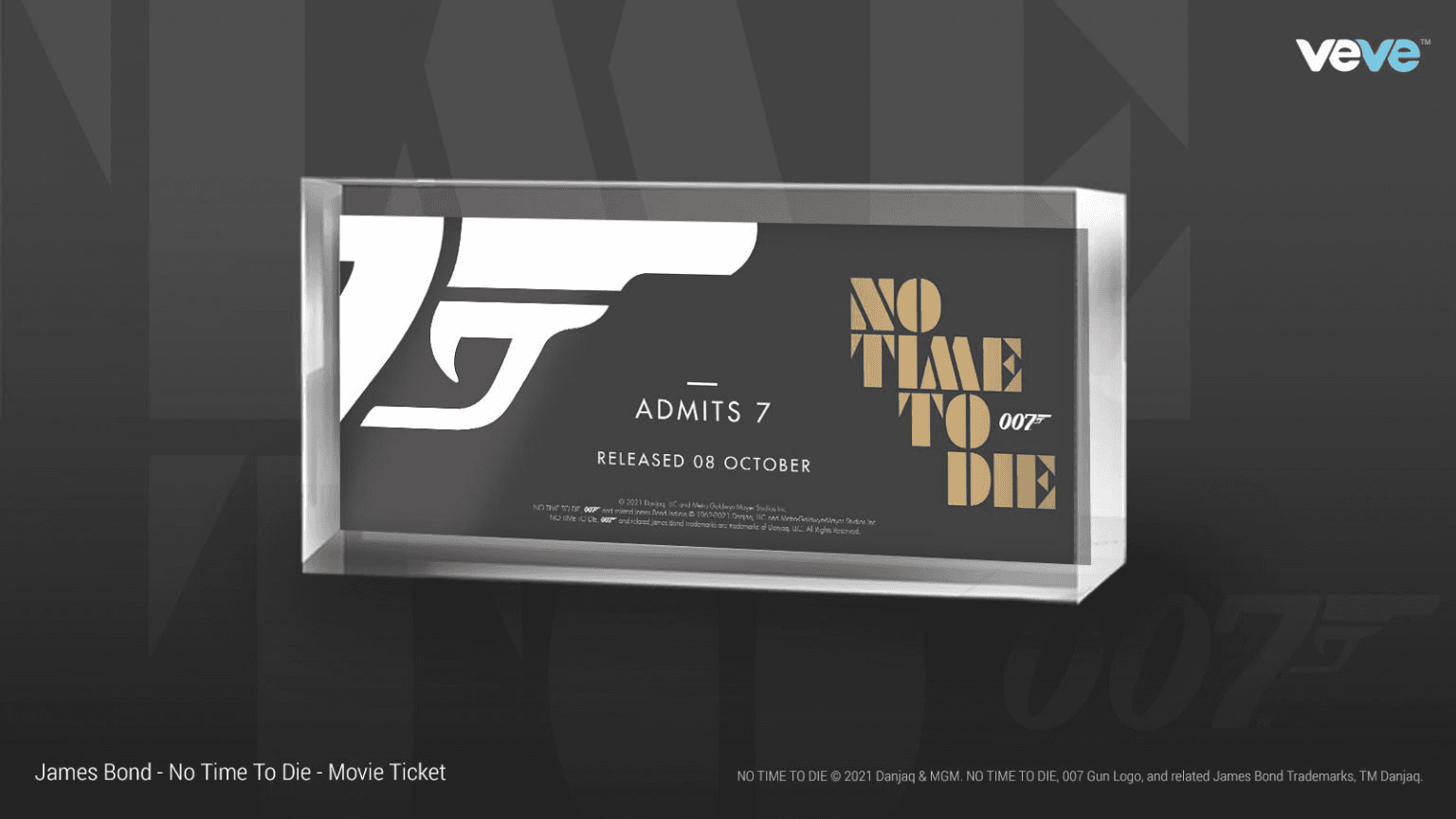 Source: NFT Evening
Some of the more surprising NFTs I've seen recently were part of the latest James Bond movie campaign. The film creators decided to offer virtual, NFT-based golden collector's tickets (naturally, ones that entitled you to actually watch the movie). And while I haven't seen any so far, I can totally imagine people sending each other virtual flowers instead of real-life bouquets for birthdays and anniversaries! So, as you can see, you could be earning through a whole range of NFT work.
Well-known brands in the NFT space
Let's now take a quick look at a few brands that shine in the NFT space, starting with Louis Vuitton.
Louis Vuitton 
The French luxury brand also couldn't stop itself from getting a piece of the NFT cake. To celebrate their 200th anniversary, Louis Vuitton created an adventure game called "Louis The Game". Players are not only able to learn about the history of the brand, but also customize their looks with Louis Vuitton monogram prints, and most importantly, find NFTs designed by Beeple. While they're collectibles, they're not for sale. 
The game was downloaded by 500,000 people within a week from its launch with the majority of the players being from China.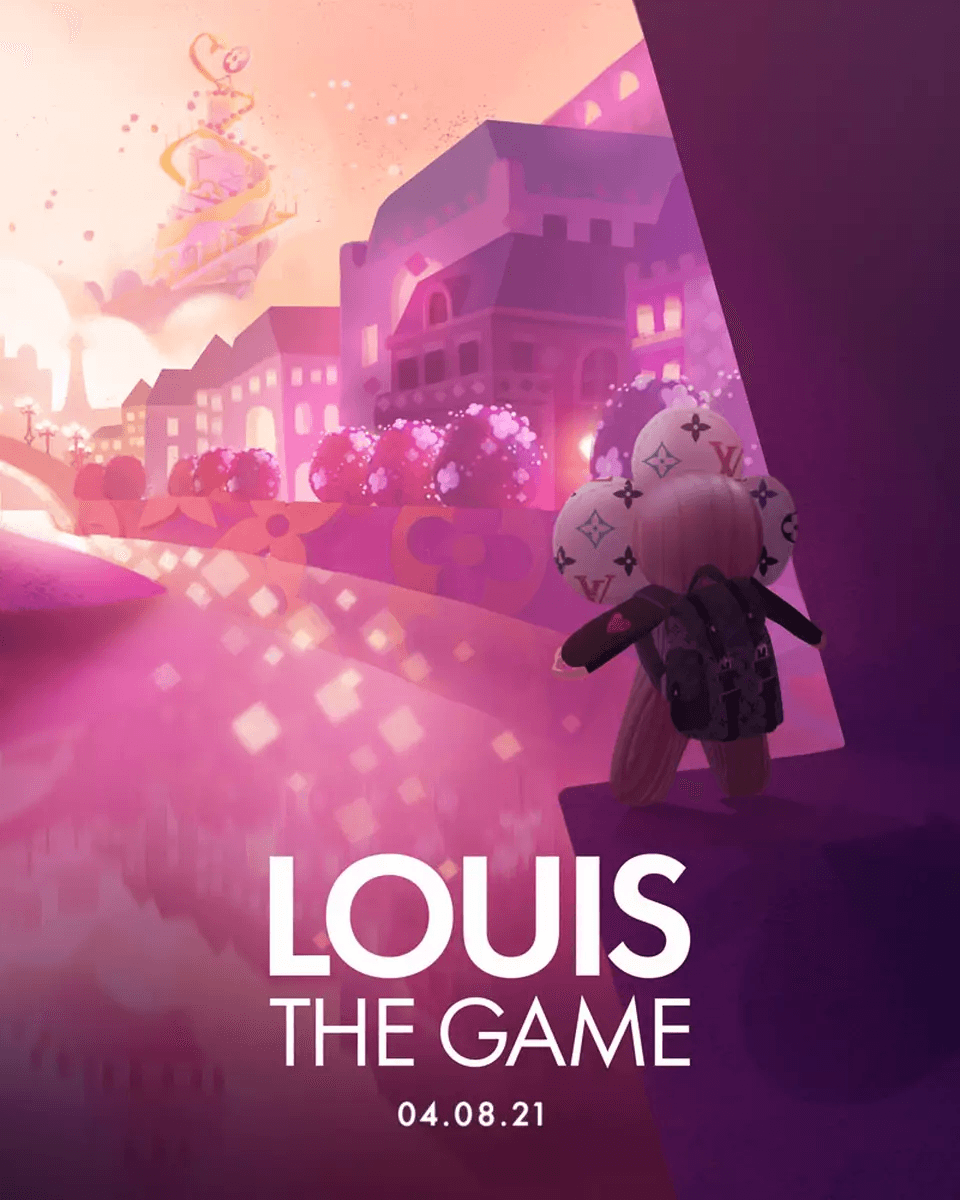 Source: Highsnobiety 
Taco Bell
Taco Bell was one of the first brands outside of the NFT world that entered this space, so they can rightfully be called pioneers. They offered 25 Taco tokens in the form of GIFs and images, which got sold out within 30 minutes on Rarible, one of the NFT marketplaces. Each item was priced at $1; clearly, the purpose of the campaign wasn't to make a profit but rather to demonstrate the brand's innovativeness and tech-savviness.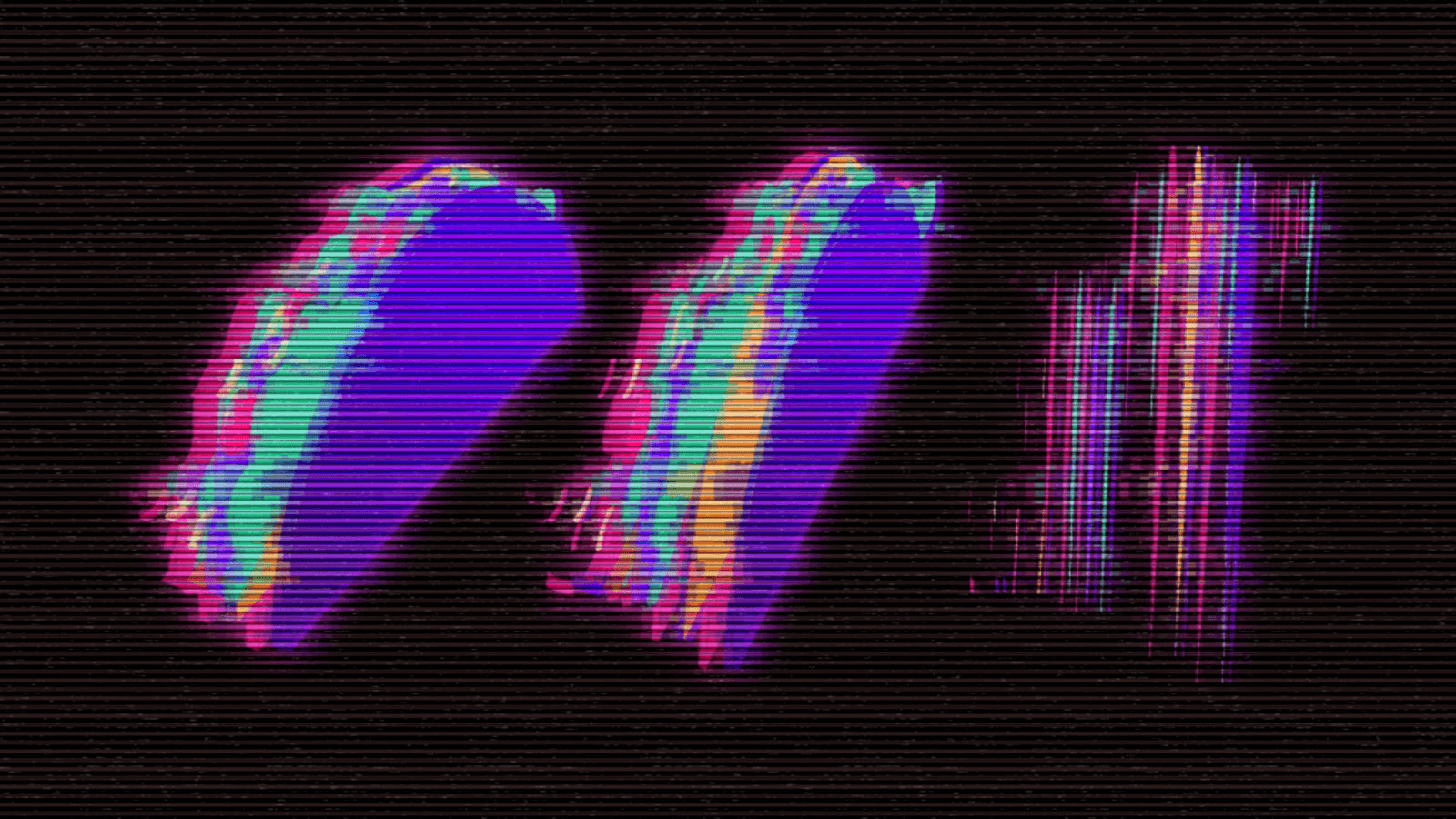 Source: Muse by clio
Taco Bell has a huge following, offering digital tokens was one of the ways to further connect with their fans. Maria Snell, Associate Creative Director at Deutsch LA says that "Sometimes, instead of connecting with the masses, our goal is to connect with our fans, which makes the NFT world such an exciting space."
VeVe
VeVe is arguably the most prestigious NFT store of all, offering exclusive digital collectibles from a number of world-famous (and, well, jaw-dropping) brands  – Marvel, Disney, DC Collectibles, Star Trek, Star Wars, Jurassic Park, Back to the Future, Ultraman, Superman, and tens of others.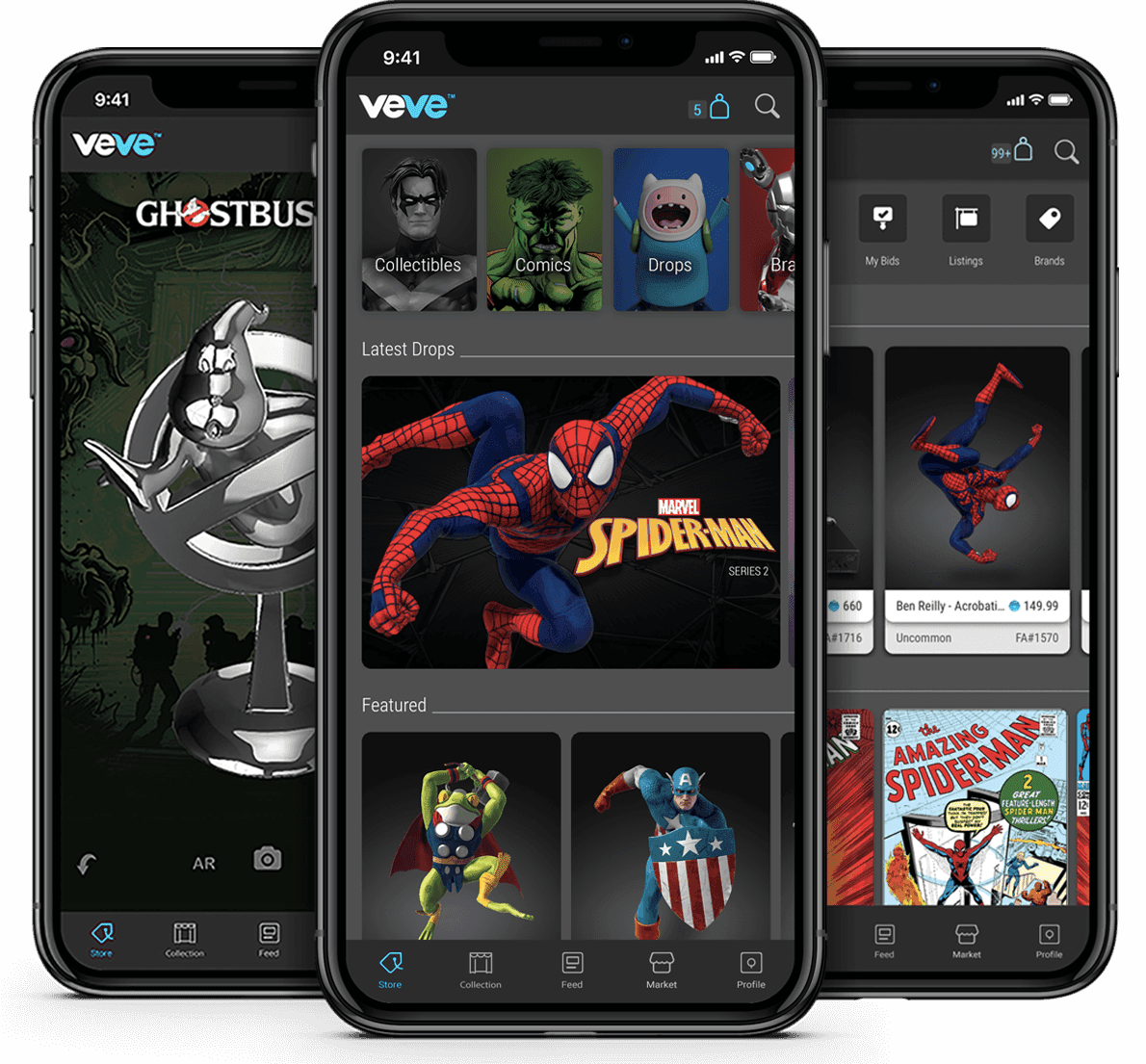 Source: VeVe
To illustrate just how popular VeVe NFTs have become, let me tell you that their servers go down almost every time they 'drop' new tokens into the store.
To support sales in their store, Veve has also launched their own cryptocurrency, ECOMI. Their goal is to become independent from Apple Store and Google Play payments and allow collectors to trade digital collectibles in their own currency.
5 things to be aware of before embracing your NFT career
By now, you're likely really excited about exploring your NFT career options. Unfortunately, as with everything else in life, there are some 'catches' you need to be aware of, and facts you need to carefully consider as you weigh your options.
1. Watch out for scam
Scammers are quick to notice excitement around any new industry or technology, and it's no different with NFTs. Fraudsters might be lurking around the corner – not only for collectors' money but also work from talent. Beware of any vague job descriptions, which don't explain how you as a contributor will be making money. You should also be extra careful if you're seeing a new company that expects investment or buy-in from new team members. I'm not saying they won't end up being legit – just be cautious.
2. Make sure you're clear on how you will be compensated
As I've already mentioned in an earlier section, some NFT brands aren't willing to hire for full-time, salary-based roles. With these brands, job descriptions look more like a "come join us and become a shareholder" type of role, where you will earn a part of the revenue. Be sure to clarify what compensation you will be receiving if you decide to join the team and that it fits your requirements. This leads me to the next point.
3. Sign a contract with the brand you're joining
Whether you're joining part-time and will be given a % of earnings, or a full-time role, make sure to regulate your remuneration, job description, and payday in a contract. The same goes for any shares you're promised by the brand. This will help secure your role in the organization and earnings in this exciting, unchartered territory. Lastly, don't forget to regulate the terms of copyright to your work – be it the art, copy, or code you've written. If any conflicts arise, you'll be clear on who retains the right to which piece of work.
4. Agreeing on the value of the NFT work 
Putting a price tag on an NFT might not be as straightforward as it might seem. Its value depends primarily on two factors: 
Scarcity – the lower the availability, the higher the value of an NFT. For example, if you produce only one copy, then you can put a higher price tag on it, then if you created a few copies

NFT's perceived value – how potential buyers view the NFT's value will impact its final price. Technically, you could put any price on your art, however, it doesn't mean it will sell. 
Individuals or brands who are already well-known outside of the NFT space will be able to price their artwork higher than those who are more anonymous. 
5. Consider intellectual property rights 
The issue of intellectual property rights cannot be ignored, as the consequences of the copyright breach can be severe. When you buy an NFT, you have to find out if the seller is actually the owner. It's not uncommon to see someone's work being turned into an NFT replica without the owner's permission. In such a scenario, you only have the right to the NFT but not to the actual artwork. Use the metadata included in the smart contract to check the terms and conditions for the NFTs ownership.
4 NFT business ideas 
1. If you're an expert, launch an NFT course
Whether you're an NFT pro in blockchain, 3D modeling, or CryptoArt curation, it's worth launching your own course or masterclass. The NFT industry is still in the making, which means now's the time to position yourself as an expert. Not only will you be earning from the courses themselves (perhaps, even passively, if you make them available on-demand). You might also earn gigs from companies who come across your course and are looking to hire pros like you. Pretty neat, right?
2. Become a digital collectibles trader
If you're thinking this isn't a career, per se, I say you'd better reconsider. As mentioned, there are a ton of hi-end NFT art and first-edition collectors' items from top brands. If the NFT world keeps evolving, then the value of these virtual items is likely to skyrocket. Think of it as running your own digital gallery – purchasing collectibles from various marketplaces and reselling them at a profit.
3. Become an NFT artist
You don't have to be the world's most renowned artist to become successful in the NFT space. Anything can be turned into an NFT; whether you create posters, animations, or music, you can sell it as an NFT. All you have to do is find the right space to sell it on, as there are various platforms available. For example, SuperRare focuses on digital artwork, while Rarible offers digital collectibles. You need to decide where your work fits. It surely helps when you make your name for yourself before you enter the NFT world, but just because you don't have a massive Instagram following, doesn't mean your work won't sell. 
4. Become an NFT developer 
The value of the NFT market is growing at a lightning speed. No wonder there is a high demand for NFT developers, capable of developing apps for buying, selling, trading, and minting NFTs. If you are a programmer, then this can be a lucrative opportunity for you. You can actually become a certified NFT programmer – take a look at this course. 
There is space for everyone in the NFT world
NFT is certainly a great space to be in right now, and there are a variety of roles that you can play, depending on your skills. Whether you're a developer, an aspiring artist, or a persuasive salesperson, NFT can offer you a great career! However, before you join the NFT party, it's worth following a few tips such as:
Watching out for scam

Figuring out your compensation 

Avoiding copyright breaches. 
There are lots of useful resources, which can help you wrap your head around the topic of the NFT, so take a deep dive to check if it's something for you.
Good luck!