People go freelance for many reasons: more flexibility, lack of growth opportunities in full-time roles, higher income potential, and the list goes on.  As a freelance marketer, your career path and work-life balance are completely up to you.
That doesn't mean going-it alone is easy. Growing any small business can be challenging — but it's usually worth the effort. Let's take a look at what it takes to thrive as a freelance marketing pro.
What is freelance marketing? 
Before we dig into how to find success as a freelance marketer, it's helpful to understand marketing and how freelancers fit into the space. 
Great marketing material isn't an option for businesses; it's a necessity. And right now, digital marketing is essential to business success. Most companies have an internal marketing team, but they often lack the manpower or expertise to produce the amount of material they need. Maybe there's not enough room in the budget or organizational changes require fractional support. 
That's where freelance marketing professionals step in to help drive innovation and strategy. These freelance agreements can be set up per hour, per project, or on a retainer contract. This can be a win-win for both parties — companies get access to incredible talent and freelancers can pick their clients and set their own prices.  
Pros of Freelancing as a Marketer
As we mentioned earlier, freelance marketers have a lot more control over their careers. Here are a few things that make freelancing totally worthwhile: 
Independence: As a freelancer, you're your own boss. You can shape how your contracts are written, set your rates, decide when you want to work, and choose who you work with.  

Flexibility: By nature, that independence means you have a lot more flexibility. As long as you're delivering quality work on time, it doesn't matter when or where you do your work. That means you can complete your work from a beach-front hotel, a cabin in the woods, or a local coffee shop — your schedule is up to you.

Balance: Since freelance marketers don't have to conform to a 9-5 job, creating a healthy work-life balance is a lot easier. You can work around your children's school schedule, take a morning off to hike with your pup, or take a nap if you need a pick-me-up.  

Financial growth: Although it can take time to raise your rates substantially, freelance marketers can potentially make a lot of money. If hitting 6-figures is important to you, it can be done as a freelancer. 
Cons of Freelancing as a Marketer
While a career as a freelancer is certainly appealing, you're likely to encounter at least one of these challenges. 
Sole responsibility: As a freelance marketer, you're responsible for the quality and timeliness of every project you take on — success or failure lies solely on your shoulders. This also means that you're also responsible for administration, tracking finances, and making sure taxes are paid. Unless you have a system and templates in place, it can be overwhelming.

Team of one: Unless you already have a strong network of like-minded friends and contacts, freelancers don't have a lot of guidance. Brainstorming, whether about projects or about business decisions, is hard — and you will face some difficult choices.

No benefits: The lack of benefits such as PTO, health insurance, and a 401(k) is almost certainly the most impactful downside of freelancing. 
What personality traits and skills make for a successful freelancer?
We'll start off by saying that almost anyone can take on a freelance assignment here and there, but it takes a certain type of person to freelance full-time. Most successful freelancers:
Are extremely driven. Freelance marketers have to hustle. That could mean learning new skills quickly, adjusting to different client styles, or simply finding new work. Sure, it's hard to stay motivated all the time, but to build a career as a freelancer, you have to be hungry for growth.

Function best if they can structure their own time. Feel stifled in a full-time role? Some folks perform better and deliver higher-quality work when they can manage their time (rather than have time dictated by office hours — or offices in general).

Value free time. Many freelancers want to produce fabulous work and still have time to enjoy their life and hobbies. 9-5 jobs, commutes, and corporate culture in general tend to limit that freedom.

Find creative freedom important. Freelancing does lack security (although right now, full-time roles at marketing agencies aren't much more stable). But freelance marketers have the opportunity to take on stretch projects and try big ideas. For creatives, those opportunities can outweigh the risk associated with possible failure.

Can handle rejection. Especially in your early years doing freelance work, you're likely to hear a lot of "no thank yous." Successful self-employed business owners understand this isn't a personal affront. 
The skills you'll need to succeed as a freelancer vary depending on what niche you're pursuing. But generally, you need to be comfortable advocating for yourself and your talent. You should be a great communicator, and you'll likely find more success if you're digitally savvy.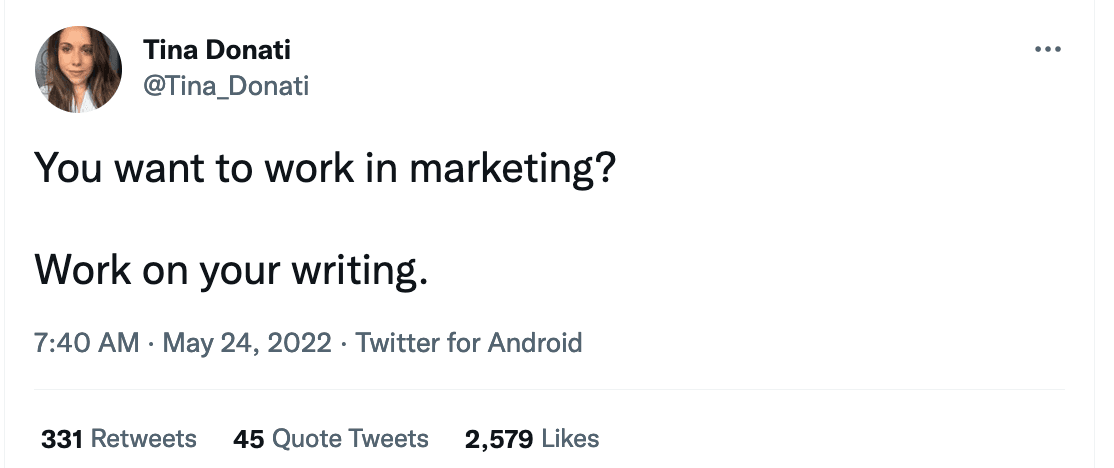 How do I become a freelance marketer?
If you spend any amount of time online, you've probably seen the plethora of get-rich-quick by freelancing posts and articles. Many of them encourage people to quit their jobs and dive right in. Please don't do that unless you have a well-established professional network. 
Sure some people were thrown into the freelance life due to layoffs, etc. and found success. But unless you have a financial support system or a robust list of potential clients already, it'll be really stressful for you. And that's not an ideal way to start a business.  
There's a smarter way to start:
1. Find your niche.
Marketing is a varied industry with numerous roles and various ways to position yourself as a freelancer. We'll touch on this more in depth below, but figuring out what you're best at can help you find your target consumer.
2. Build your savings before jumping into full-time freelancing.
The early days of freelancing are the bumpiest and most uncertain financially. Try to have a pretty large nest egg (aim for at least 6 months of expenses) in case clients don't come as quickly as you hope. This is especially true for folks that don't have partners to support them during their career transition. 
3. Freelance on the side first.
Keep your full-time job (and that regular paycheck) while you plant the seeds of your freelance marketing business. These smaller projects and assignments can help you save money, build your brand, meet potential clients, and figure out what processes work best for you.
4. Build your personal brand.
Showcase your expertise with a great website and engaging social feeds. Have work examples and testimonials front and center. If you have the time and desire, consider starting a blog to show off your knowledge and help drive traffic to your site. 
5. Hone your skill set.
Work constantly on improving your marketing skills. Take classes, webinars, and certificate courses as often as possible. The more you know, the more you can charge as a freelance marketer. Here are a few learning options to explore:
6. Make connections. 
The strength and size of your professional network are paramount. You should, of course, start building connections with possible clients. But you'll also want to build up your network of other freelancers. A strong network of marketing specialists will not only offer you a wealth of knowledge, but will also become a referral source.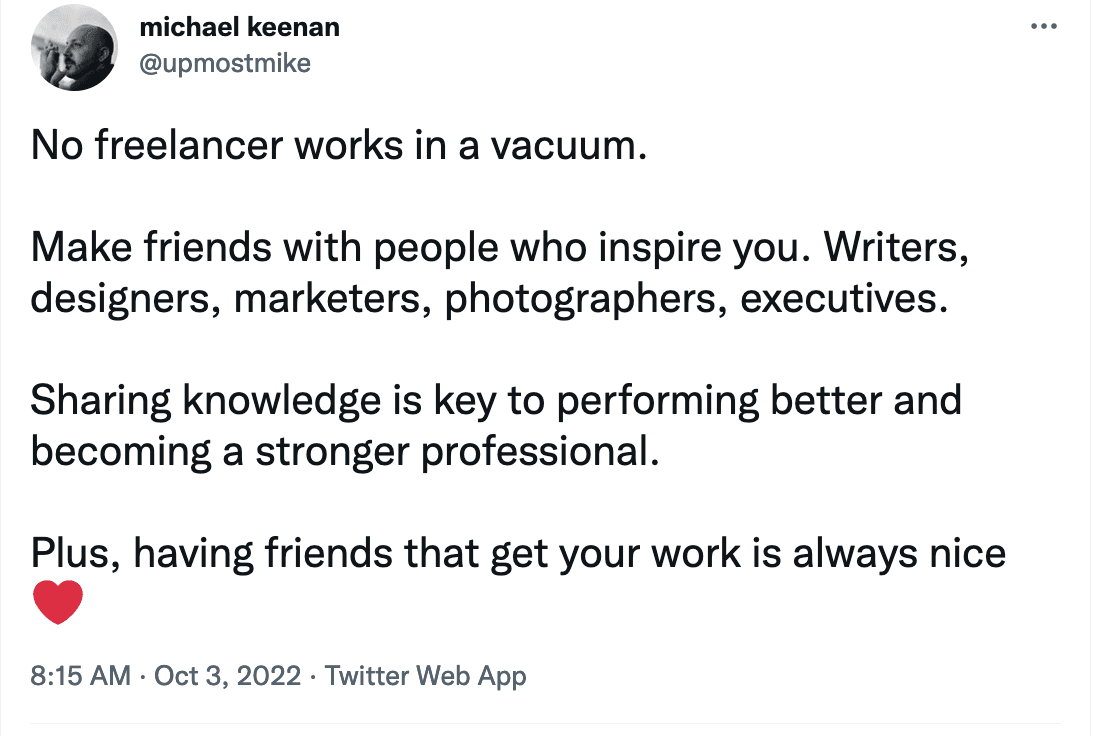 Setting Your Rates 
Picking your pricing structure is always a challenge. Try to ground your rates on your experience, technical knowledge, past results, and your specific niche. You'll have to decide what works best for you: hourly rate, per project, or per month. Usually, prospective clients will ask for a written quote for the work needed, and occasionally you'll be asked to submit a bid proposal. 
It is common practice to charge 50% of the fee upfront and the remainder upon project completion, and implement a late fee for overdue invoices. You can hammer out the details when you draft a contract.
Pro tip:Your network of other freelance marketers can be helpful here, too. Most freelancers are happy to discuss how they've set their rates and provide suggestions for your situation. 
Create a professional invoice system. 
An invoicing system will be crucial as you gain traction as a freelance marketer. You have many options, but many freelancers have found success with software brands like:
Freelance Marketing Niches
Your career options as a self-employed marketer are endless. You could do anything from project management to web design to copywriting. Here are just a few options: 
Branding expert

Content marketing strategist

Copywriting

Data analytics

Email marketing copywriter or email developer 

Graphic design 

Influencer marketing

PPC specialist 

Product marketing 

Social media marketer or social media manager 

Search engine optimization or keyword research expert
You may or may not want to narrow your niche down even more. For example, "copywriter for SEO companies," "marketing content writer for ecommerce startups." You could even specialize in marketing to certain target audiences, e.g., "marketing campaigns for health tech brands," or "content creation for youth athletic initiatives." The options are endless. 
On top of your niche, you'll also need to narrow down your role. You can choose different levels of involvement, including:
Agency 

Consultant

Fractional marketing support

Independent contractor

Strategist
You'll want to explore these options carefully and choose the one that works for your freelance business. 
How much do freelance marketers make? 
According to Glassdoor, the average annual income for a freelance marketer is about $60k. However, your income will depend on your experience level and how long you've been operating as a freelance pro. While it takes time and hard work to build your business, it's not unheard of for freelancers to make 6-figures, especially in marketing. 
Not everyone measures their freelance success the same way though. Some people go freelance so they can spend more time with their families, move to a different area, or travel more.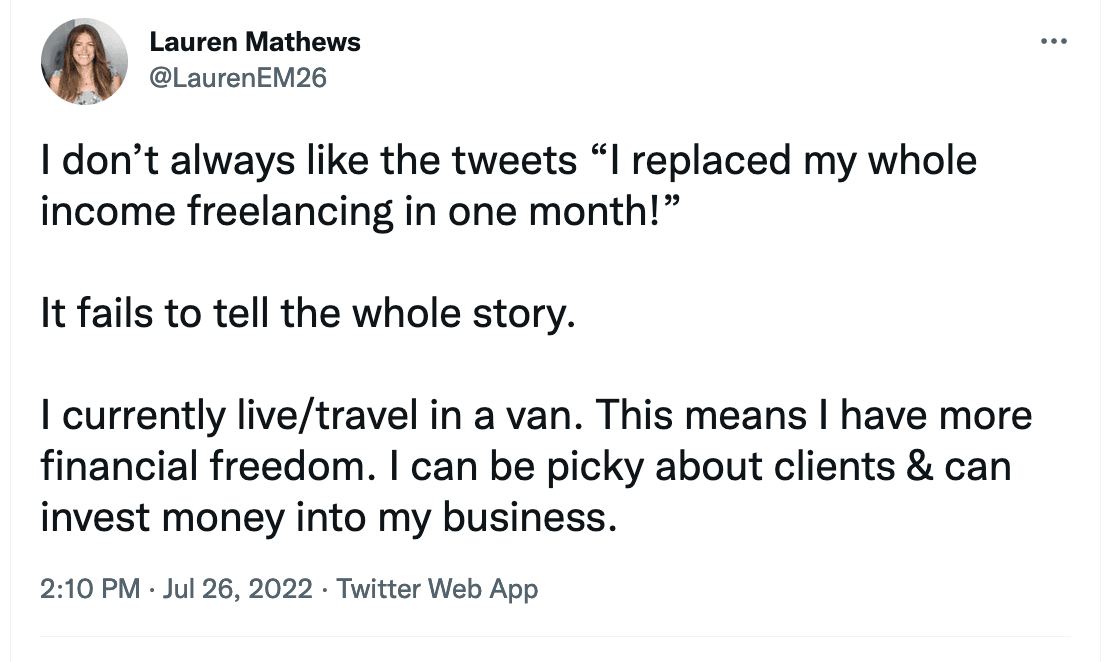 Money is obviously important for most of us and self-employment allows you to define success on your own terms. For example, "This year, I'd like to make ___ per year, take ___  vacations, and save ___ for emergencies or retirement." 
Where can I find freelance marketing opportunities?
There are so many ways to find freelance marketing jobs. Let's start with the most obvious: Let your current network know that you're open for business. Post on LinkedIn or Twitter, send short but sweet emails to former employers or coworkers, and ask other freelancers if they need subcontractors or know of any open gigs. 
Social sites, especially Twitter and LinkedIn should be part of your personal digital marketing strategy. They're a great place to find new clients and freelance jobs. Maintaining an active presence on those sites is helpful (and can be enjoyable, especially if you often work alone). 
If you want to boost your freelance marketing career without searching endless job boards, join the MVP Match freelancer network and let us do the heavy lifting!