A lot has happened over the past two years. The pandemic outbreak and the war in Ukraine have significantly impacted our lives and have caused huge business uncertainty. Inflation is skyrocketing and the biggest tech giants are reducing their workforce. This will certainly translate into some freelancing challenges. But worry not! With a bit of preparation, I am sure you will come away unscathed. 
Let's take a look at the challenges you can expect in 2023, and how you can effectively overcome them. 
What are the main challenges in a freelancing job in 2023?
Here are some of the freelancing challenges that you might have to tackle in 2023. 
1. Getting new clients 
Did you know that in late 2022, there were around 60 million independent workers in the United States alone? This accounts for over a third (!) of the entire U.S. workforce. Some of them have decided to explore freelancing full-time as an exciting career advancement. Unfortunately, others are now pursuing freelancing jobs as they were let go in massive layoffs (particularly those in the tech scene). Unfortunately, the U.S. is just an example, and the situation is similar in other markets.
Now, if we zoom in on the individual freelancer's perspective, this creates one major challenge – more competition for clients. Especially, as some folks who are new to the freelancing niche might offer lower prices just to land their first couple of customers or so.
How to tackle it: For starters, don't panic 🙂 You might have to become a bit more creative to stand out from the crowd, but it's certainly doable. 
My first piece of advice is to be consistent. If you see a freelance job post and, say, about 70 applications, don't assume it's game over. In recent months, I've started working with some of the world's top tech brands, even though they have received hundreds of applications. Quality and relevant samples will help you put yourself ahead of others. So, if you're a designer and have worked for similar clients, i.e., designed SaaS software, share examples of your work and personalize your message.
Also, think outside the box. Ask yourself – where do my potential clients hang out, where there are likely few competitors? These can be anything from Slack groups that loosely relate to your freelancing niche, to real-life conferences or meetups. Maybe there's a fintech event coming up, and you just happen to be a front-end developer who's specialized in the industry. I'm sure you get the idea!
Finally, try to focus on brands that put expertise over hourly rates. Companies that have experience working with freelancers usually have different freelancing tiers. For example, more experienced freelancers are assigned harder topics and therefore get paid more. 
2. Inflation is affecting (or scaring) potential clients
The economic repercussions of COVID-19 and now, dreadfully, the war in Ukraine, have pushed many countries into double-digit inflation. Some of your clients, depending on their location and industry, might be more affected by soaring prices than others. Generally, though, a vast majority of businesses have become cautious in their spending. Sadly, this might also affect how they approach working with freelancers.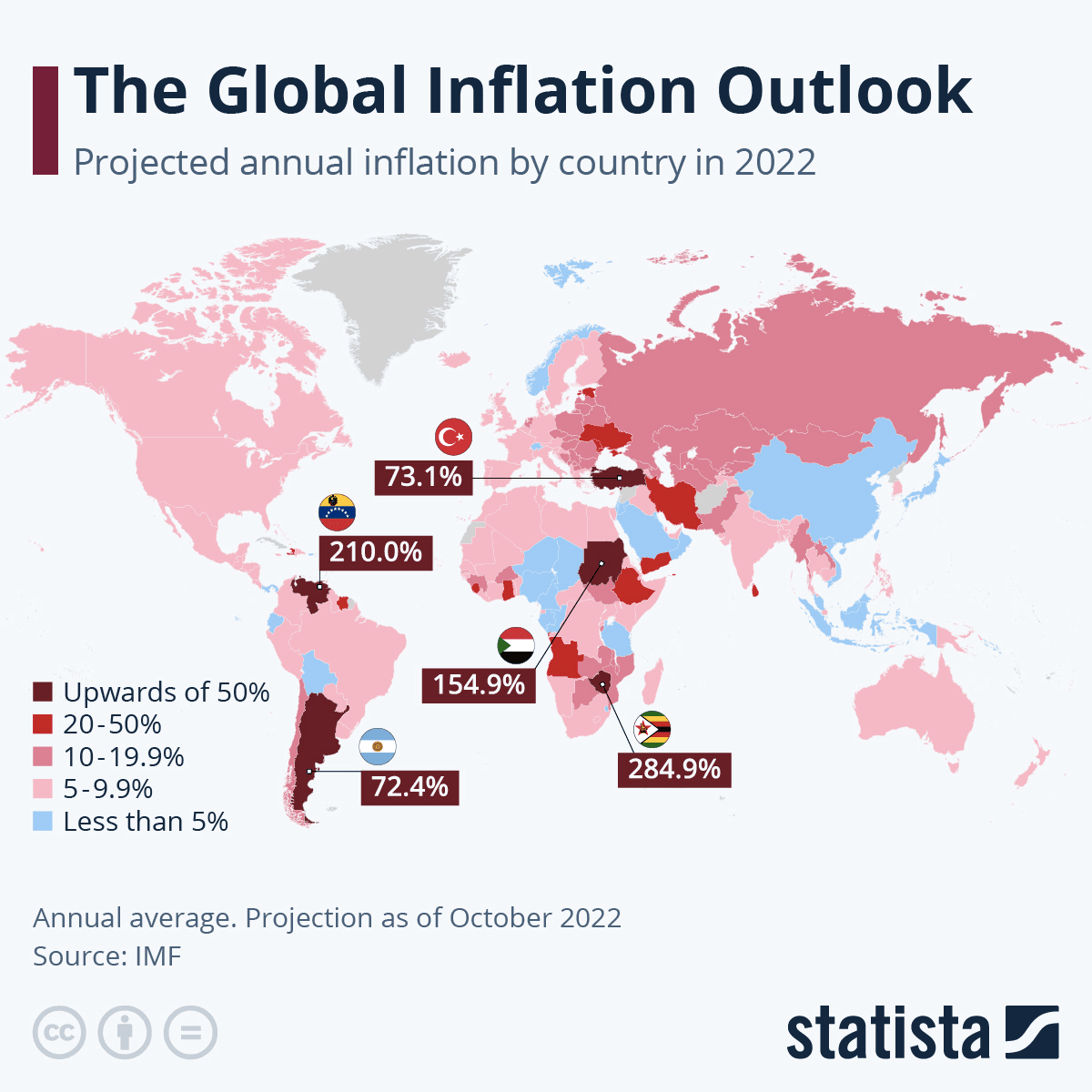 Source: Statista
How to tackle it: If your clients are looking for savings and you're worried that they'll want to terminate your cooperation, roll up your sleeves and prove to them that working with freelancers can lead to savings (which is absolutely true). Here are a few arguments to use:
Convince your clients that you can get more work done in a shorter time, as compared to regular employees. Especially, if you get paid for a completed job, not per hour. 

There are no employer costs involved in your work relationship, i.e., the company doesn't cover any statutory benefits or sick leave

Unlike employees, they can always take a break for a month or two and easily resume the project. There's no severance pay or lengthy notice periods required by labor law. 

When you submit invoices, your clients can deduct income and VAT taxes from them. In a country like Poland, they can deduct as much as 42% of the total invoice value!
We mention how to handle money talks during inflation further in this piece, so stay put.
3. Making sure you're compliant with the law
Given my experience, I'd say this is the most underestimated freelancing challenge out there. And honestly, I don't get why, as anyone who wants to do freelancing full-time needs to make sure they are compliant with both national and international business laws. Here are the top considerations:
Understanding if you need to set up a company or if you can continue working as an individual. Different countries see various income limits for freelance work – if you pass them, then you need to set up a business.

Checking if you need to pay any taxes if you have full-time employment and treat freelancing as a side gig

Knowing how to handle the paperwork. It's not only about signing a legally binding contract, but also protecting and/or transferring intellectual property rights to your client. This might be a bit tricky if you are working with international clients, as their laws might be different from yours.
Now, for the sunny side up – you can take a lot of this off your plate if you work with the right partner.
How to tackle it: Consider signing up with Match. Not only will we put you in touch with clients who seem to be the right fit for your career objectives and experiences, but we'll also handle the paperwork. This means you won't need to worry about drafting a contract or handling international payroll.
4. Increasing prices 
Informing clients about price increases is part of being a freelancer. I know it's stressful, but if you want to keep your business afloat, you simply cannot keep your rates unchanged for years. And inflation this year is going through the roof! In Poland, it's supposed to hit 20% in January 2023 (ouch). 
The good news is that all companies fall victim to inflation. And most of them will also raise their pricing, so they'll understand where you're coming from. 
How to tackle it: Plan your price increases carefully. It's better to inform your clients about one higher raise than to keep telling them every few months about a price change. Even if it's a minor one. A few years ago, I told one of my clients about a 5% price increase. Even after the raise, the rate they were on was still way below what my other customers were paying. After 4 months I decided to increase it by another 10%. The customer was unhappy, as they said it was the second increase within a few months, and our cooperation ended. If I could turn back time, I would have done it differently.
It's best to let your clients know a few weeks in advance about changing your rates. There are two reasons for it:
Since they're planning new budgets, they'll be able to allocate more resources to working with you

If they decide they can no longer afford to work with you, you'll have time to either negotiate your rates or find a new project to compensate for the loss. 
5. Organizing your work 
Truth be told, staying organized while freelancing full-time and juggling multiple projects has always been a challenge. But even more so now that a lot of companies have switched to remote or hybrid ways of working. People you used to work with might currently be in a completely different time zone than you. And they might be harder to reach, which complicates and prolongs receiving feedback. 
What hasn't changed though is that each project must be delivered on time, and within agreed requirements. And if you add to it other tasks like finding new clients, issuing invoices, etc. which are part of a freelancing job, then staying organized becomes really critical. 
So, to successfully freelance in 2023 and beyond you'll have to work on your organizational skills. 
How to tackle it: First of all, have a chat with your client. Find out what their schedule looks like, will they be moving places? If they will, ask what the best time is to reach them. Agree on the deliverables, deadlines, and the best communication channel. To make sure you don't mess up your project schedule, use a tool like Trello. It will help you track your work progress. You can create different boards such as orders, in progress, feedback, and completed.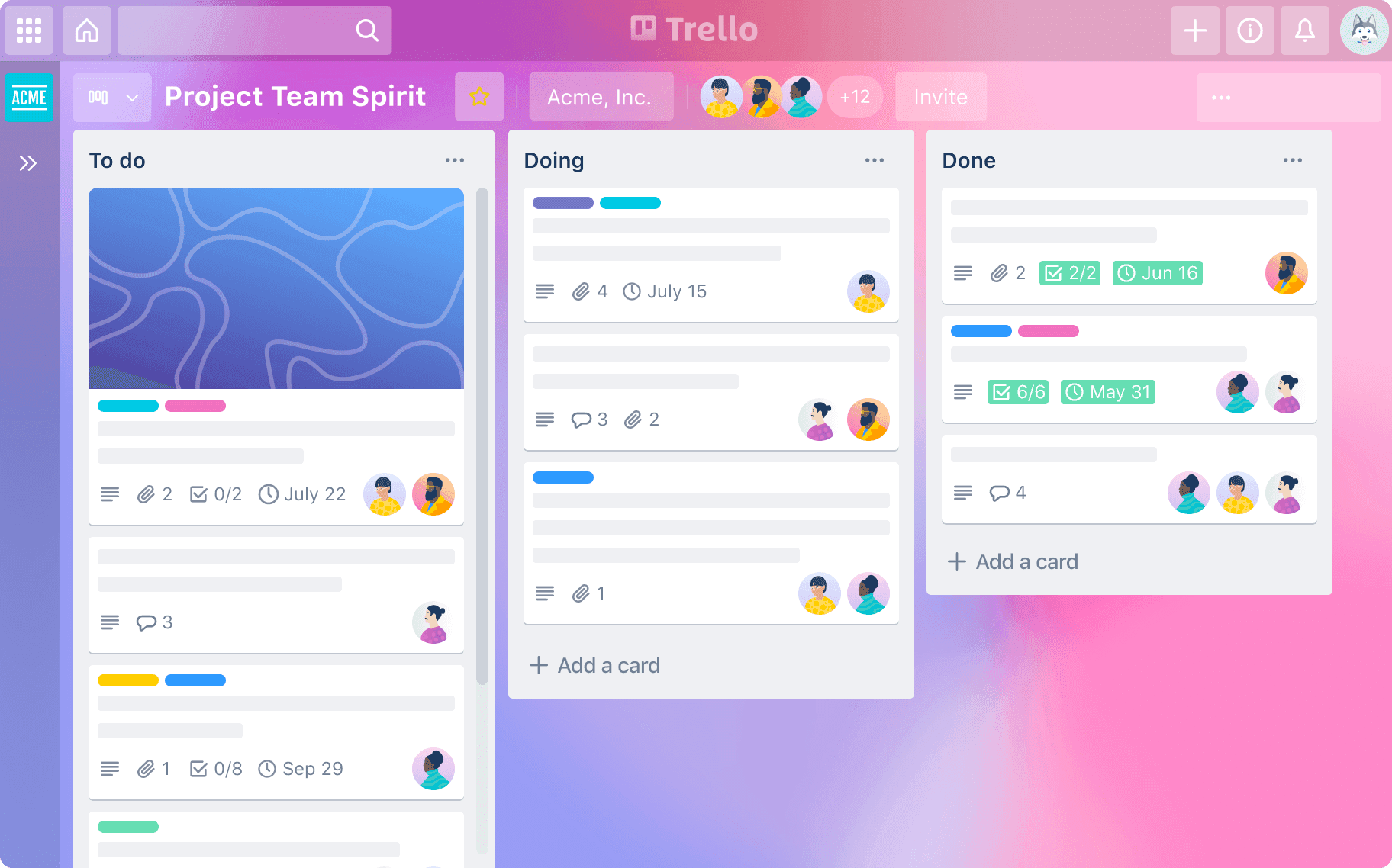 Source: Trello
6. Keeping operational costs under control
Many freelancers choose to work through freelance platforms. It's a good way to find new clients, but unfortunately, it comes at a cost (quite literally). Most of these sites deduct a commission from any work you handle through them. 
And while it makes sense for the client to pay an operational fee (after all, freelance platforms need to make an earning, right?), they might also take a cut from you. Some freelance sites take as much as 20% or more from the talent. This might not seem as big of a deal when you have a one-off assignment, but if all of your long-term clients use the platform to cooperate with you, it won't be financially viable. 
How to tackle it: Avoid platforms that take a cut from your work, even if they claim that they have millions of customers actively seeking freelancers like you. Instead, I highly recommend applying to Match – you get to keep 100% of your market rate, and you also get connected with potential clients. Who could beat that? 
7. Working alone 
Another freelancing challenge you might have to tackle is being alone a lot of the time. Especially if you're a solo freelancer. I am not only referring to being alone in a room, but to the fact that you'll have to make all your decisions on your own. And I know from experience how overwhelming it can be.
How to tackle it: Luckily, even if you're a lone wolf, there are plenty of Slack groups that you can join such as TOFU or Superpath that will offer you support. While not all members are part of the freelancing niche, plenty of them are freelancing full-time. They openly talk about their challenges and fears, and no question remains unanswered –  trust me.  
Alternatively (or additionally), if you have any freelancing friends, you can always meet up for a coffee to chat about your problems, and share tips. Plus, it's always nice to catch up and gossip a little, right?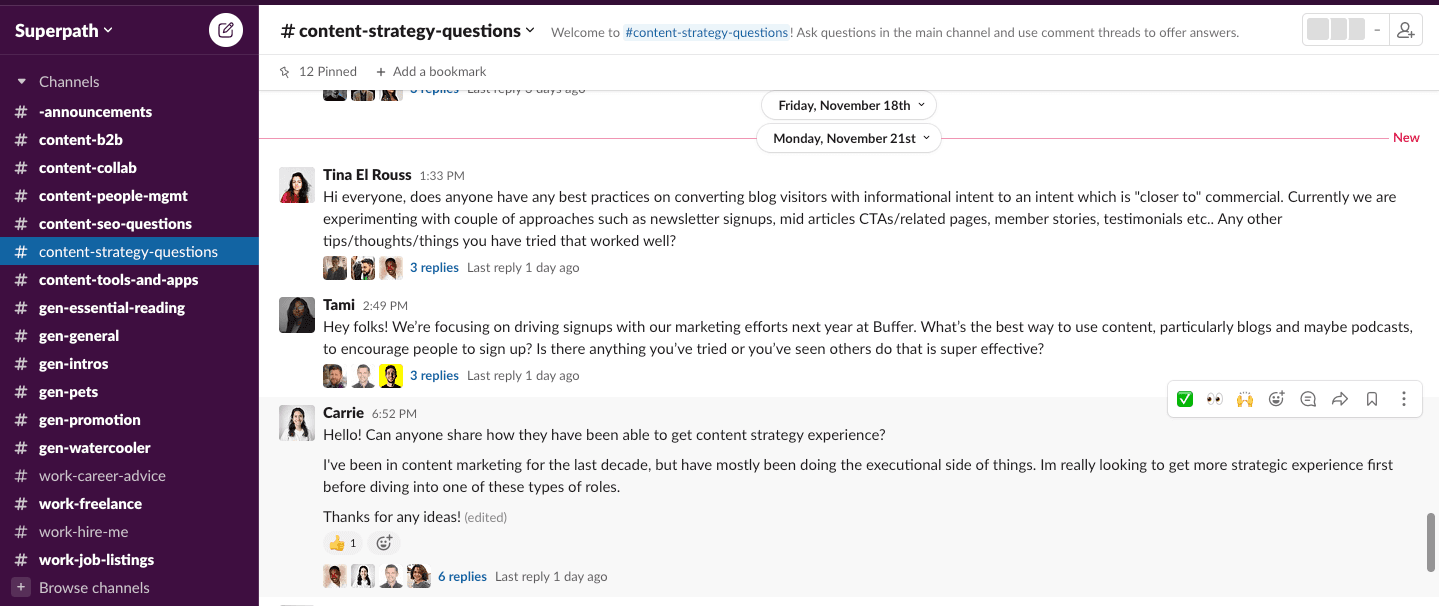 Source: Superpath
8. People (including your family members) distracting you 
I've been freelancing full-time for quite a while now, and I still feel that sometimes people around me don't understand that freelancing is work. Just because I work from home (or a beach), doesn't mean I spend time on Instagram watching funny reels (although occasionally I do, who doesn't?). 
Many times, I've been in a situation when I visited my parents and they asked me to sweep leaves. It was noon and I was in the middle of writing an article. I had to tell them that I am at work and that I will help out as soon as I am done. A freelancing job is still a job. We have deadlines that we need to stick to, otherwise, we will lose clients. That's why it's so important to be assertive and avoid distractions. 
How to tackle it: Try to explain to the people you care about what freelancing involves, and what your schedule looks like. If you can, put your phone on flight mode, and snooze any notifications, at least when you do deep focus work. It might sound a little funny, but you can consider putting a "do not disturb" sign on your door, to prevent any family members or roommates from disturbing you.
9. Project fluctuations 
You might have heard that big tech companies including Meta, Google, and Amazon are laying off employees. 2022 has been a difficult year for everyone, not only because of the pandemic but also due to the war outbreak. Both of these events have left a significant financial mark on businesses. To reduce costs, they're decreasing their workforce. As I've mentioned earlier, this potentially means that a lot of talent will switch from full-time work to contracting. And more competition might result not only in fewer new clients, but also in more project fluctuations. While this has always been part of a freelancing job, you might feel it more in 2023.
How to tackle it: To better manage your workload, and reduce periods where you don't have enough projects to keep you going, consider implementing contracts. Include a notice period of, let's say, a month. This timeframe is fair both to you, as it gives you time to find a new project and to the client. Also, make sure to have a project calendar in place to track how much work you have each month and how much income it brings. 
Acing your freelancing career in 2023 & beyond
While the world has shown its darker side in recent years, there's plenty we can do to maintain stability in our freelancing careers. First of all, don't be discouraged if it takes a bit longer to land new clients, or if you're suddenly seeing more competition for work. A bigger freelancer economy can actually be a good thing, as companies will save money on employer-related costs.
Also, there are ways you can save on your own operational costs, too – for example, by signing with Match, which connects you to potential clients and lets you keep 100% of your market rate for any work you find through the platform. 
Implement the tips I've shared in this piece, and keep your head up high. Who knows, maybe 2023 will be your best freelancing year yet? Keeping my fingers crossed 🤞!