Editor's note: This blog was originally published in January 2022 has been updated for accuracy.
How to make money freelancing? That's probably the first question that comes to mind when you consider kicking off a freelance career. While "money talks" can be awkward or even controversial, it's an issue that all of us freelancers have to address early on in our careers. 
To help you navigate this tricky yet critical matter, I've decided to put together a list of 15 tips. They come from years of my own trials and errors. Hopefully, they'll save you from the problems I had to face while organizing my work.
15 tips on how to make money freelancing 
How to select your customers 
Let's start with the very basics:
1. Decide on the type of clients you want to work for
Whom you decide to target now will heavily impact the direction of your freelancing career (at least in its very first months) and how much you'll be making. Here are some of the questions worth asking yourself: 
Do you want to work with small-to-medium businesses, or would you rather cooperate with enterprise clients? From my experience, working with the former means fewer rules and flexibility, while the latter comes with a more regulated decision-making process.

Is there a specific industry you'd like to focus on? If your goal is to work in the highest-paying sectors, then it's worth researching which industries are currently offering the best remuneration for specialists like yourself.

Are you looking for short-term or long-term projects? If you can't tell just yet, then ask yourself if you'd be more excited with growing the number of clients in your portfolio, or engaging in a longer, big-shot assignment for a single customer.

Are there any design/software tools or frameworks you are proficient in and want to keep using? If so, then filter out any gig offers where you wouldn't be using your tool stack.

Are you happy to work with brands that have never worked with freelancers, or do you prefer those who regularly work with contractors? Essentially, what I'm asking here is if you'd be open to explaining to your client how the whole freelance-client relationship works. Companies who've never worked with external specialists will likely have a lot of questions, as they'll be 'piloting' freelance cooperation with you. If you're not up for the task, then you should make sure to ask potential clients about their previous work with freelancers or contractors. Alternatively, you can join Match and we will make sure to connect you with clients who have the preferred level of freelance cooperation experience. 
2. Decide on your objective
Depending on where you are in your freelancing career, you might have different goals – building your brand image or focusing on money-making. Let's take a quick look at each option.
Building your image
Have you ever been in a situation where you wanted to work with a company just because they cooperated with a brand that you loved? I bet you have, and so have I! Becoming a successful freelancer is not just about your skills, but also about your reputation. 
If you're new to the freelancing world, then it's worth prioritizing building a good brand image. To establish authority and boost your reputation try to land a few gigs with well-known brands. If you don't have an impressive project portfolio (yet), you might have to lower your rates or even do a few free assignments. I know it sounds painful, but treat it as an investment. To compensate for your time, you can ask your client if it's OK to put their logo on your website or create a case study after successfully delivering the work. The more projects you take on, the more trust you will build, which, in turn, will positively impact your reputation. 
Higher profit margins
Alternatively, you can decide to focus on money-making, and that's perfectly fine! Figure out the kind of customers you want to target, industry- and location-wise. There are countries such as Australia, Singapore, or Scandinavia which pay more generously. If these are the markets you want to focus on, then find out what their expectations are, and whom you're competing against. 
If after doing research you still struggle with pricing your services for international clients, then I recommend taking a look at Buffer's remuneration formula for hints.
3. Check your prospective client's financing
This one here is easily one of my top freelancing tips! Surprisingly, I haven't seen anyone else mention this point in similar content. 
Whether you've received an offer from a company, or are trying to pre-qualify companies before running an outreach email campaign, try to look into their financing history. Especially, if you'd be keen on working with startups. 
Enter the company's name into Google and try to find any articles that mention their most recent financing rounds. You can also go a step further and use CrunchBase to generate a list of companies that are already past a certain financing round, i.e., one you consider satisfactory.
You can do the same for well-established enterprises to check whether you're looking at a financially stable client. In this case, look at their most recent stock market results or any freshly-published financial statements.
The bottom line? The more financial liquidity or the higher the funding, the more potential there is for ongoing, long-term cooperation.
How to pick the right projects
1. Define your value proposition 
Did you know that there are around 1.1 billion freelancers around the world? The competition is fierce, to say the least! That's why you need to be clear on the skills you offer. Knowing this will not only help you pick the right projects and avoid those beyond your area of expertise but also differentiate yourself. Look at competing services and try to spot gaps in their value proposition. Maybe you're able to deliver work faster than your competition, or you have a higher number of returning clients? Both of these are worth mentioning. 
2. Assess your capacity/availability
How much time do you have per week or month for freelance work? The types of projects you should consider will depend on whether you're a full-time freelancer or looking for extra gigs after work.
Once you know how much time you have for freelancing, consider if you'd like to dedicate all of your hours to a single project, or work on several ones simultaneously. Assuming that making money is your priority, you should calculate which of these options will result in the highest paycheck.
3. Choose projects that align with your career objectives
Let's assume you're a React Native developer, and your goal is to become part of the elite, i.e., make a name for yourself among the global RN development community. Consider how each potential project could help you get there. For example, would working with a huge brand do the trick? Or, on the contrary, would you rather join a promising startup and build an app for a completely new solution on the market?
The good news is you can join a freelancer community that will take care of project matchmaking for you – I'll discuss it in detail further in this post, so stay put!
How to price your work 
1. Try to find out what the market rate is 
To tackle the question "how to make money freelancing?", you need to learn what the market rate is. Knowing how much your competition charges will help you make sure that you don't undercharge or overcharge for services. This is key because price impacts your brand perception. If it's too low, prospects could think it's low quality. If it's too high, their expectations might go through the roof. Here are a few tips that can help you figure out the market rate:
Check out social media groups. There are many on Facebook such as Freelance Copywriter Collective or Remote Work & Jobs for Digital Nomads, where both clients and freelancers discuss the projects they're part of, including pricing

Look at forums like Quora 

Check out freelancing websites; some freelancers openly share their rates 

Talk to your freelancing friends if you have any, and ask them how much they charge.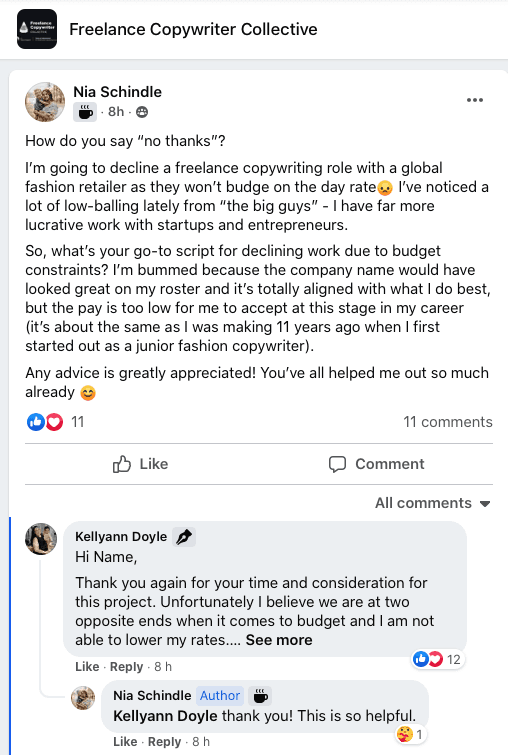 Source: Freelance Copywriter Collective on Facebook 
2. Decide on the pricing model you want to use
There is more than one pricing model that you can choose from. Let's take a look at a few options: 
Charge per hour: You can decide to have an hourly rate. Use a tool like Toggl to track all your work hours, and issue an invoice at the end of the project based on the completed hours.
Use a flat fee: You can try to estimate the time it will take you to complete a project, and give your customer the final price. It'll be easier to do if you have previous projects that you can relate to.  
Use a monthly retainer: It's a fixed monthly rate to guarantee availability – irrespective of whether the client needs your services or not. It's usually paid upfront. 
Use a daily fee: Alternatively, you can charge your client for each fully worked day (6-8h). Calculate it based on your hourly rate. 
3. Account for any ongoing costs
You'll need to subtract quite a few costs and contributions from the gross amount on your invoices. There are two types of expenses you must take into account here: 
Taxes, social security, and other contributions, which are compulsory in your country of residence. These might be quite significant unless you're based in a tax-friendly or tax-free country.

Operational costs, such as equipment, co-working space desk rentals, tool subscriptions, or accounting services, among others.
Once you've deducted all these, you'll be looking at your true earnings. And speaking of 'true earnings', this links closely to the next point. 
4. Know how much you want to earn
If you're still thinking: "how to make money freelancing?", then simply ask yourself a question: How much would I have to earn to feel motivated to take on a project? Just be realistic – your idea rate should still be based on your experience and skills. The more experienced you are, the more you can charge. Be ready to justify your rate, especially if it's on the high end. 
How to market yourself among target customers
1. Feature the exact services you offer on your site
I'm constantly amazed by the number of service-based company websites that make it extremely hard to understand what it is that they are actually selling. One of the reasons for this is that companies mention way too many services instead of focusing on their genuine areas of expertise.
Here, I recommend the "less is more" approach. If you're an expert mobile app developer and genuinely believe that's where you'll earn the most, then you don't want to distract your target client's attention with WordPress development services 'just' because you are capable of offering them. Instead, highlight the skills, technologies, and frameworks you're truly great at and want to grow in. Makes sense, right?
2. Ask clients if you can feature them in case studies
Creating a separate menu tab for case studies is a common practice among SaaS company sites. Why not inspire yourself with this approach for your freelance services' website or professional blog?
Featuring stories of how you've helped a client get from point A to point B, and (better yet) explaining the results it has brought will do miracles for your credibility as a freelancer. So, if you've been on a project for a while or have just completed one, ask the client if you can share your cooperation story online. There's nothing to lose and a lot that you could gain to convince your potential clients.
3. Post on social media 
Social media is the perfect place for gaining exposure and getting new leads. I know from experience that sharing news about your successes can work wonders, as they attract a lot of attention. If you have recently gotten a new client or delivered a project that you're especially proud of, share it on social media! This will help you build your reputation and generate trust. I recommend posting regularly, so your followers don't forget that you exist.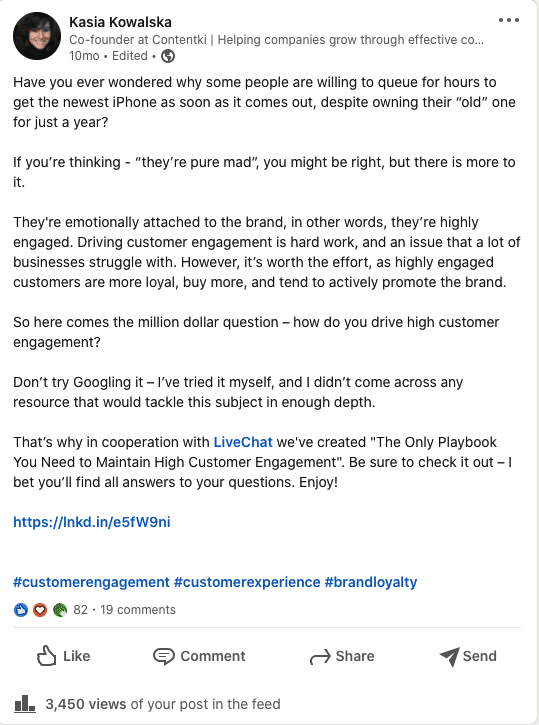 Gaining exposure on social media
4. Update your profile on professional networks
Many people in search of freelance support google the type of project they're looking for. Now, the important thing to know here is that search results are largely dominated by websites with strong domain authority (which means your website might not come up). That's why you should leverage the SEO ranking power of social media and community websites. Make sure to update your LinkedIn profile and (perhaps, most importantly) Dribbble (if you're a designer) and StackOverflow & GitHub profiles (if you're a developer).  
Make it clear on your profile that potential clients are more than welcome to reach out, as in the example below: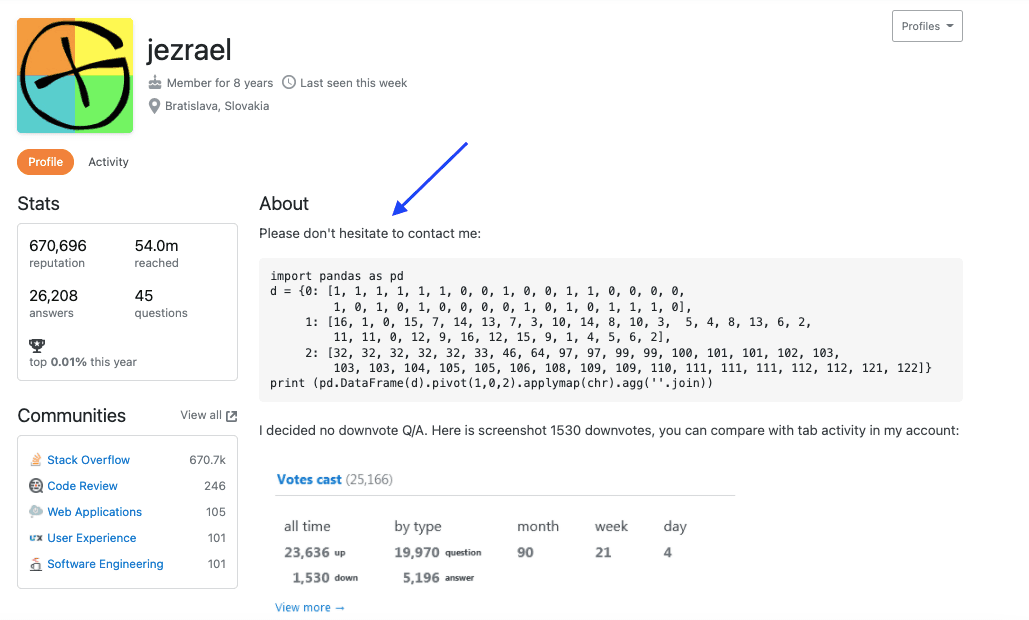 Source: StackOverflow
5. Join a freelancer community
Joining MVP Match is a great starting point to a fruitful freelancing career. You will get the opportunity to become part of an elite expert community and work with well-known brands on ambitious projects. Here are a few reasons why it's worth becoming part of the MVP Match community: 
We'll work our matchmaking magic and link you with projects that perfectly fit your skills and career objectives

You'll get plenty of opportunities to learn from others, as all freelancers we cooperate with are fully vetted for and verified in terms of skills

We work with some of the most amazing companies worldwide like PwC, TaxFix, Oliver Wyman, and many others. This means one thing – you don't have to worry about searching for fitting clients, as we'll take care of that for you!

You can adjust your availability at any time – you can work full-time, part-time, remotely, or (if that's your game) in a hybrid setting. You're free to change your time availability whenever need be!

You can forget about admin. We'll take care of all formalities including contracts, invoicing, and time tracking. The rate you request is the rate you receive.
How to make money freelancing – join Match
I know that becoming a freelancer might be quite overwhelming at first, and there are lots of things that you have to consider such as:
The type of clients and projects you want to work with

What pricing model to choose

How and where to acquire clients

What your career objectives are, and many others.
However, if you join Match, then most of the issues mentioned above will become a distant memory. Now, who wouldn't like that?
Ready to give it a go? Sign up with our freelancer network!