Almost 9 out of 10 companies have project manager roles — and for good reason. Project management can make the difference between out-of-control, money-wasting work and budget-saving efficiency in an organization.
As a project manager, how can you help your resume stand out to hiring managers?
Below, we give a simple framework for creating an impressive project management resumé, from the relevant details to include, how to style your CV appropriately, and a template.
Are you a freelance project manager seeking open roles? Join the MVP Match Freelancer Network to connect with cutting-edge organizations seeking exactly what you have to offer.
What to Include
Contact Information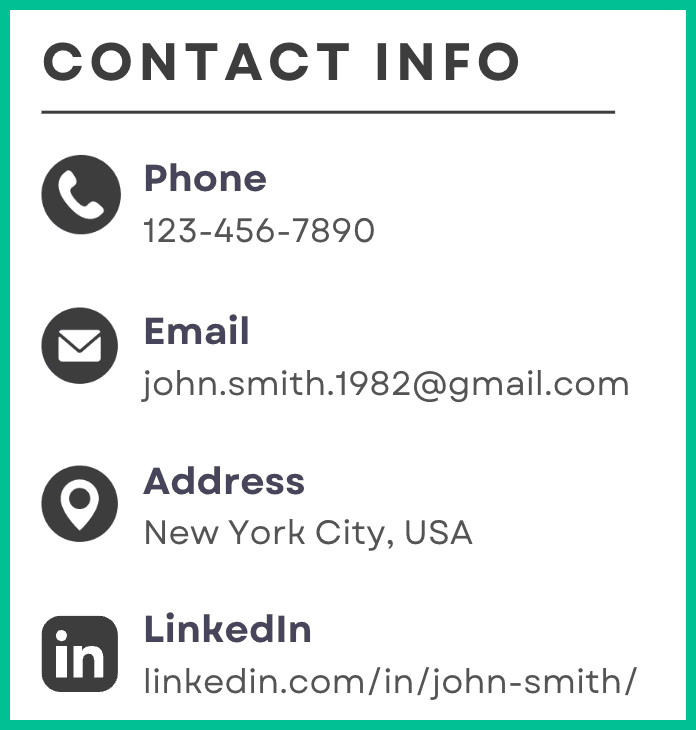 Make it easy for recruiters and hiring managers to get in touch with you. Your resume should include:
A phone number: Area code and/or country code should always be included. And here's a pro tip — make sure your voicemail message is professional. Avoid silly or gimmicky voicemail messages. Keep your phone close in case a hiring manager contacts you for an initial phone screen interview.

An email address: Again, keep it professional. Yes, hottie_with_a_body_92@hotmail.com might be your primary email, but for job searching, it's just not going to work. Stick to your name and a few numbers, if necessary. 

Your physical address or location: For most people, a city/state and country will do.

Social media profile URLs: LinkedIn is at the top of the list, but you can also include Twitter or another handle if you have engagement relevant to the position you're applying for. Take a quick look at your profile to ensure it reflects your current experience, includes a profile photo, and looks up-to-date in general. You can remove the "https://www." from the beginning of the URL to save space.

Photo (optional): Photos can be a great way to share a bit of personality on your resumé. However, they can also be tricky if you're concerned about employers making judgment calls based on your age, ethnicity, or gender. Use your best judgment, and don't feel the need to share a photo unless you want to.
Summary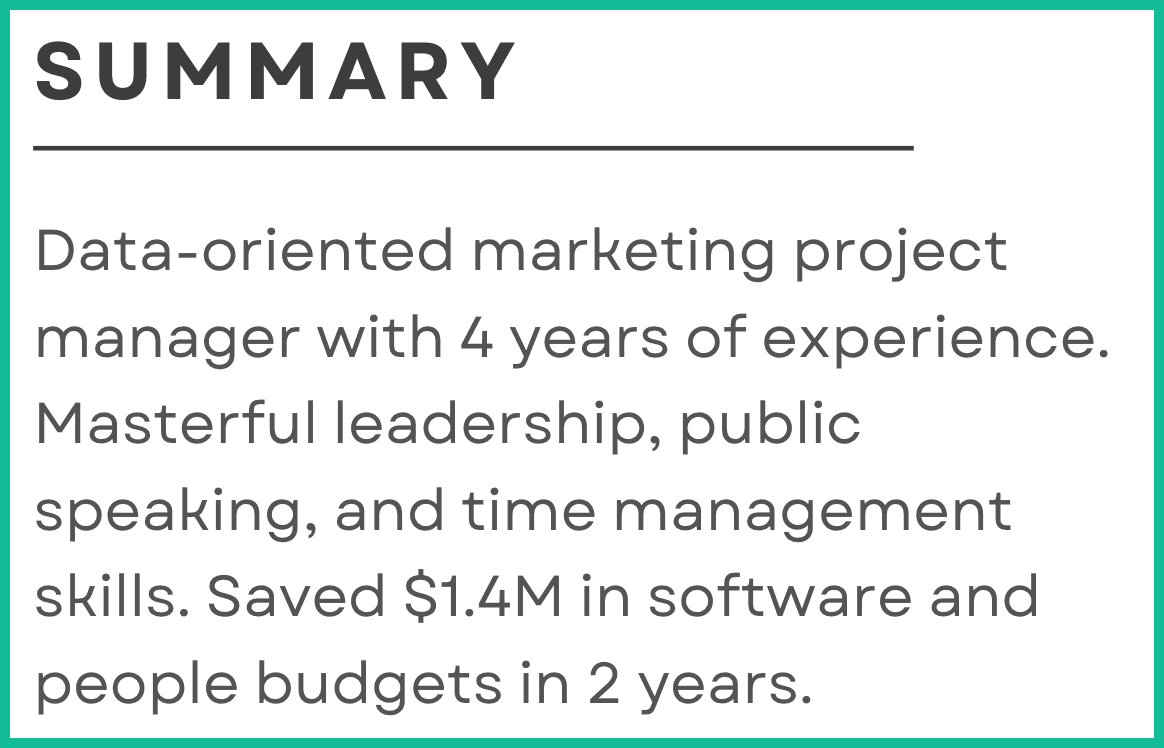 In 2-3 sentences, describe your:
Job title

Years of experience

Most relevant skills

Most impressive achievements as a project manager
Your project manager resumé summary (sometimes called a resumé objective) should be a powerful elevator pitch of who you are and what you do.
Relevant Education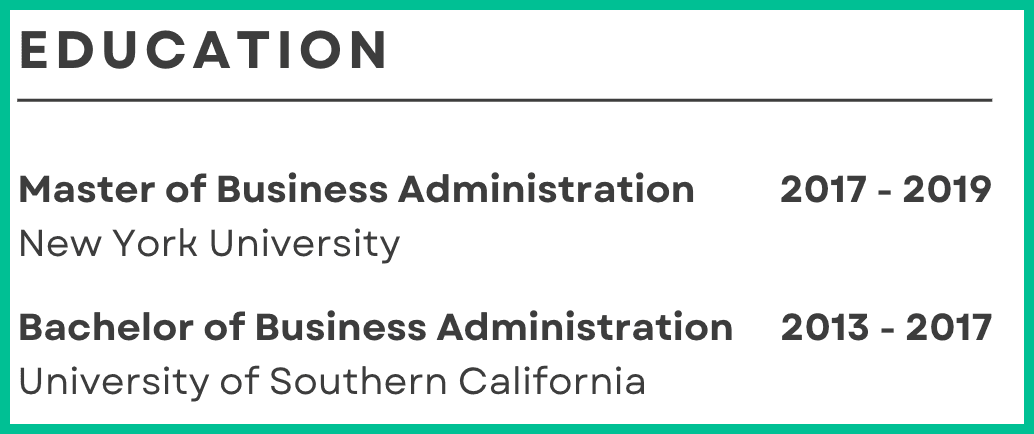 Your work experience and achievements hold far more weight than your education section when it comes to project management roles. Don't spend too much space here.
List relevant education, such as a Bachelor's degree or MBA, including:
Degree name/type (if you finished your education)

School name

Location (optional)

Years attended

GPA (optional)
Unless your GPA was 3.5 or above, consider leaving it out. Only an impressive GPA will increase your chances of landing the job.
For entry-level project management job seekers: Since you may not have a lot of relevant experience, you may choose to use this section to highlight specific classes or skills you developed while in school. Consider including more details in this section to explain why you're the best candidate for the position.
Work Experience and Achievements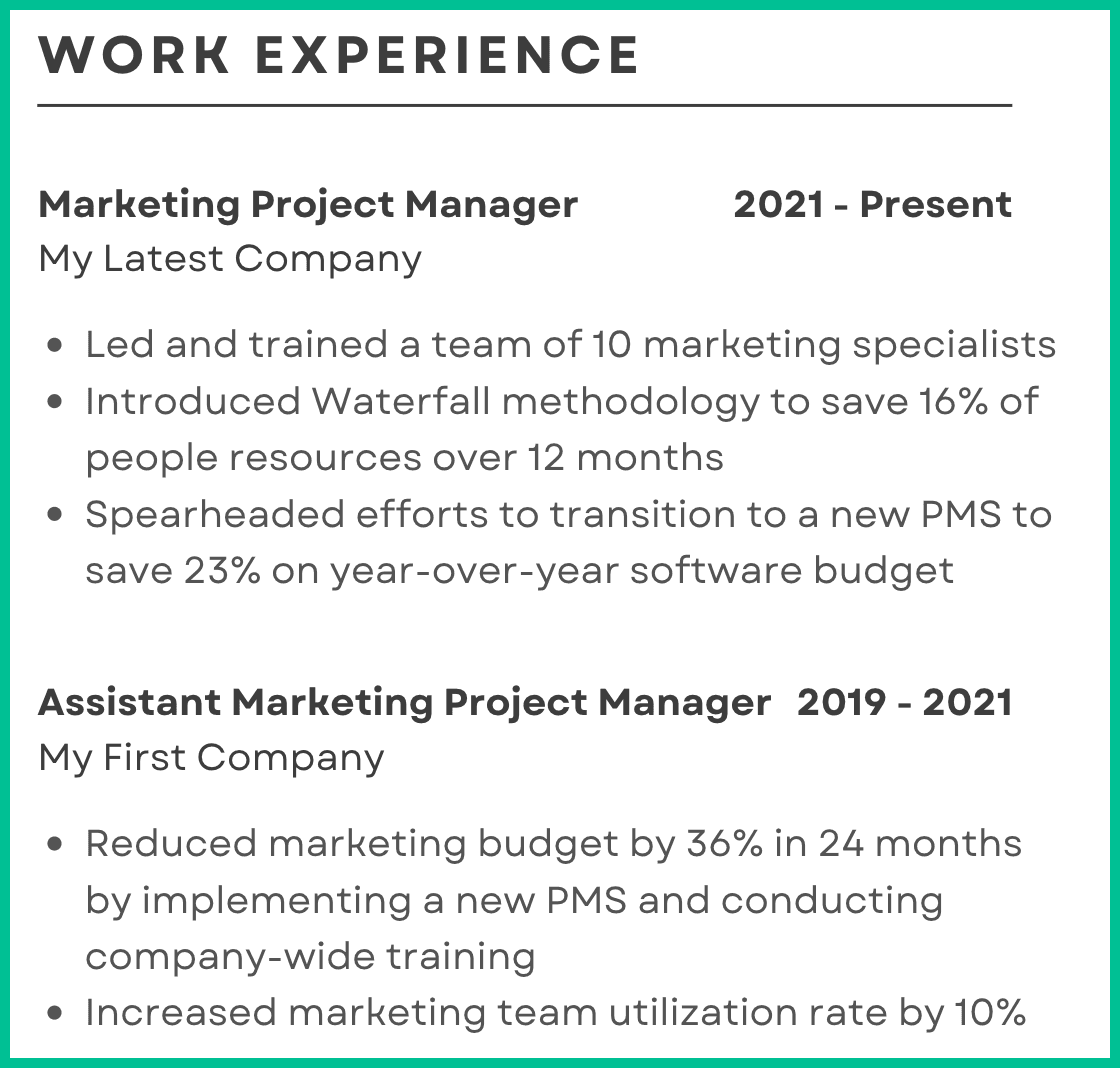 This is the most important section of your project manager resume. You're not just showing your years of experience; your experience section "sells" you as the right person for the job.
List your:
Job title (make sure it matches your LinkedIn profile)

Company name

Company location (unless it's a well-known or fully remote company with no official HQ)

Your achievements
To make the most of your work history on your resumé:
Go in reverse-chronological order. Your recent work should be your most impressive, so list it first. Include successful projects you most recently completed.

Use action verbs to describe what you did. You spearheaded, led, increased, or reduced. Avoid passive wording like "was a part of ___" or "was able to ___".

Include bullet points of your most relevant work achievements. Use as many data-driven items as possible to show why your project management experience is valuable to the organization you're applying to. Keep it relevant to the job description. Avoid long paragraphs and keep each bullet as concise as possible.

Use metrics and milestones. Numbers (percentages, dollar amounts, time periods) help to drive home the impact of your successes. Explaining process improvements you achieved is okay, but your recruiter or hiring manager probably cares more about the end result of those improvements. Use valid data to back up your achievements.

List the dates you worked at each company. For a long job history, using only the years of your employment is probably sufficient. However, if you had several project manager positions over the course of just a few years, use the MM/YYYY format instead.
Related: Roadmapping 101 
Skills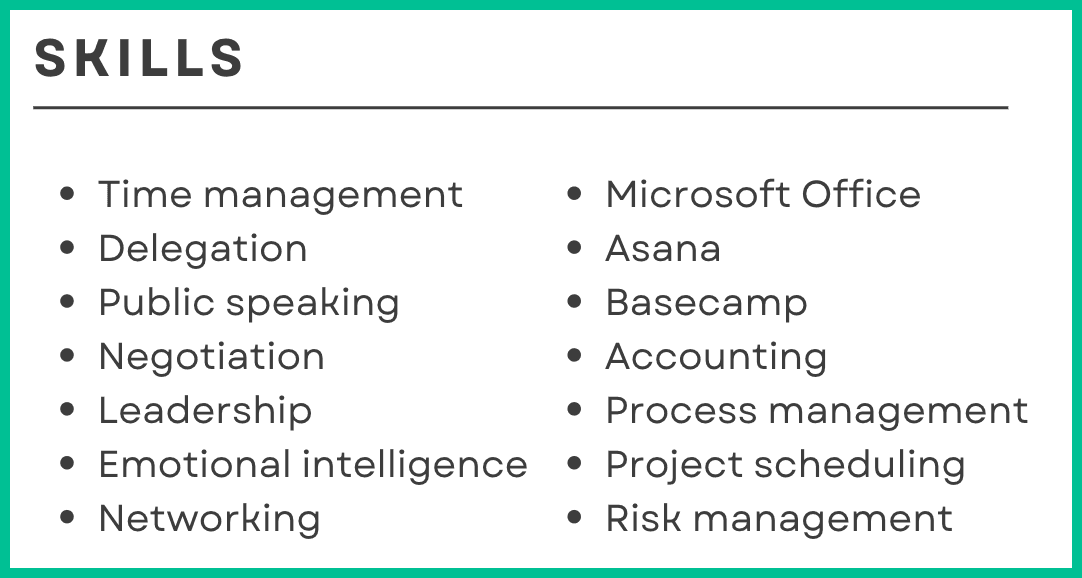 A project manager should have skills that include organization, people management, time management, detail-oriented thinking, and software proficiencies.
Project management involves specific methodologies and both hard and soft skills. Ensure all of these are clearly listed in your skills section.
Methodologies many organizations seek for project management include:
Agile

Waterfall

Kanban

Lean

Six Sigma

PMI (Project Management Institute)

Extreme Programming (XP)

PRINCE2

Critical Path Method (CPM)

Critical Chain Project Management (CPPM)
List your soft skills, such as:
Delegation

Public speaking

Negotiation

Leadership

Emotional intelligence

Networking
And include hard skills, like:
Software proficiencies (Microsoft Office, Notion, Quickbooks, Monday, Asana, Basecamp, etc.)

Technical documentation

Process management

Project scheduling

Risk management

Software development

Business administration

Construction project management

IT project management
You don't have to differentiate hard and soft skills with headings on your resumé, but list hard skills together and soft skills together to make it easier to understand.
You may also choose to include the methodologies you have worked in in your list of hard skills.
Certifications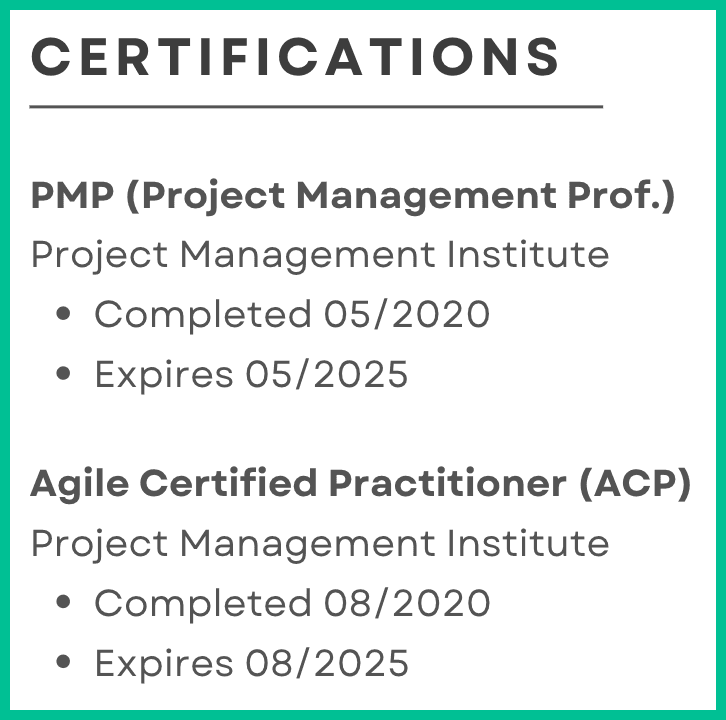 Project management certifications help you stand out and negotiate a higher salary. According to ActiveCollab, project managers with the PMP certificate (the most popular in the industry) make around 16% more than their counterparts without it.
Some of the most popular project management certifications include:
Associate in Project Management (APM)

BVOP Certified Project Manager

Certified Associate in Project Management (CAPM)

Certified Project Director (CPD)

Certified Project Management (CPM)

Certified Project Manager (CPM-IAPM)

CompTIA Project+

Professional in Project Management (PPM)

Program Manager Professional (PgMP)

PRINCE2 Foundation/PRINCE2 Practitioner

PRINCE2 Agile Foundation/Agile Practitioner

Certified ScrumMaster (CSM)

Agile Certified Practitioner (ACP)
When including these certifications, list:
Name of the certification

Name of the agency that provides the certification

The date you completed it (month and year)

When it expires (if applicable)

Date you expect to obtain the certification (if not yet complete)
Style Notes
Whether you're using a resumé builder, resumé template, or creating your resumé from scratch, it's important to deliver the best resumé possible. Here are our tips for the resumé format that will help you stand out.
Choose Fonts Wisely
Don't use script fonts, decorative fonts, or anything that makes the text hard to read. Stick to simple serif and sans serif fonts for readability.
Use only 1-2 fonts — generally, one for headings and the other for body text.
Make Important Information Pop
Tastefully use bolding, icons, and other colors to emphasize important information, such as dates.
But don't overdo it. This is a professional resumé, not an art project.
Bullet Points are Your Friends
Whenever possible, use bullet points rather than long paragraphs of text. This helps to divide your achievements and encourages you to be brief and clear. It will also help the reader to easily find key points.
Watch Your Length
If you can, keep your CV to one page. If you include a cover letter, keep that short as well. As a project manager, you should be able to briefly communicate necessary information. Some hiring managers will toss out an applicant based on a too-long resumé alone!
Save Your File As a PDF
Don't use a JPG, PNG, or any other file type. Save your resumé as a PDF to ensure your design stays intact and that applicant tracking systems can read the text on the page.
Avoid using .doc or .docx files, as you may lose any visual formatting (including fonts) when the hiring manager opens your document.
Project Manager Resume Example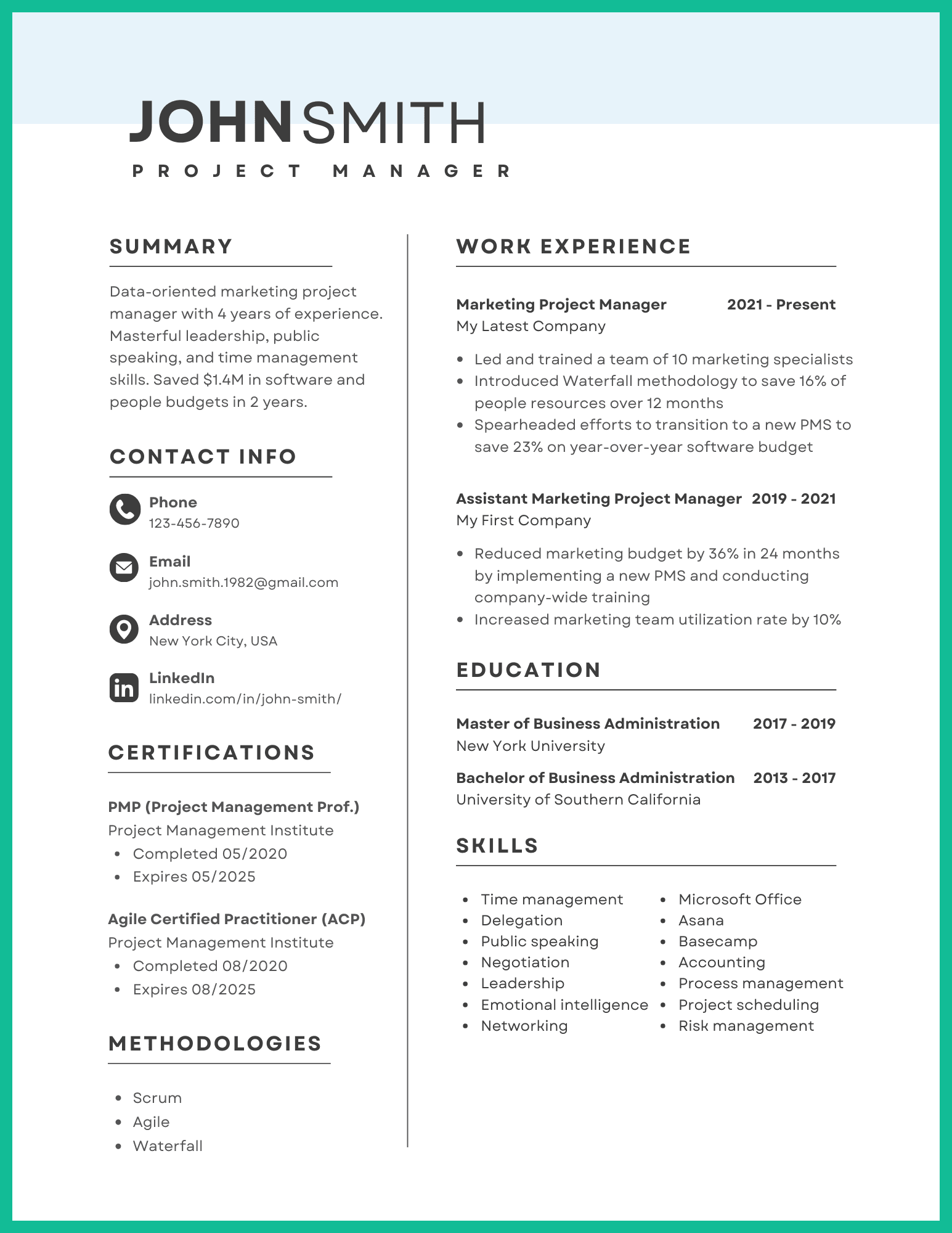 Like this project manager resumé template? Use the template on Canva.
You may want to try a resumé builder like Novo Resume. However, you can also build an excellent CV using just Google Docs or Microsoft Word.
Keywords to Include
Use buzzwords that applicant tracking systems are most likely to pick up on when applying for project manager positions. These include:
Leadership

Management

Team/Team Members/Project Team

Lifecycle

Stakeholders

On Time

Organization

Negotiation

Time Management

Team Management

Budget Management

Scheduling

Problem-Solving

Adaptability

Critical Thinking

Detail-Oriented

Strategic Planning

Deliverables

Initiatives
Looking for a New Project?
Are you a freelance project manager seeking your next role? We fixed the broken freelancer system to offer you a more effective way to take your project management career to the next level. Join our Freelancer Network today!
Read Next: Product Owner vs. Product Manager: Who Does What?