After a few rough years on the market, all signs in the sky are showing that the IT world is stronger than before. This means that many tech brands are now on the lookout for new talent. Whether you're a newcomer to the IT industry or searching for new career paths, here are the top 10 best jobs in technology, along with their annual salary and an explanation of each role.
Top IT jobs to hire for in 2022 
Project Manager 
The IT sector is growing fast, so it's hardly surprising that the role of a Project Manager has become one of the best jobs in technology. Especially considering that the rate of project failure can be reduced from 70% to 20% through appropriate project management. This role offers individuals without any tech background a chance to break into the tech industry, all the while providing generous pay. 
What do Project Managers do? 
PMs are responsible for making sure that projects are completed successfully, on time, and within budget. They define goals and objectives, agree on the scope of work, and decide who is responsible for carrying out each task. They also act as quality assurance and hold stakeholders accountable for the results of their work. 
Top skills you need as a Project Manager
Proficiency in project management methodologies – all PMs must understand project management methodologies, at least at a basic level. These include scrum, waterfall, agile, and lean. While it's not necessary to be an absolute expert in each, getting a certification will boost your market value. 
Budgeting – the ability to effectively manage a budget is one of the key skills that every PM has to master. If they get the budget wrong, high chances are that the project will result in delays or – in the worst-case scenario – won't be finished at all. This involves cost tracking through the project lifecycle and accounting for any unplanned events, which can impact the final budget. 
Project planning and time management – you cannot effectively manage projects without advanced project planning skills. Especially, since PMs are responsible for organizing the work of others. Lack of it will result in project failure as good organization is the foundation of successful project execution. 
Salary
Certified Project Managers can earn hefty paychecks. In the United States an average annual salary of a PM stands at $97,073. This includes bonuses of $13,222 per year. 
Enterprise Architect
Glassdoor has listed Enterprise Architects as the #1 best job in America for 2022. And it's not a ranking for top IT jobs in demand only – it's for all industries. In announcing the winner, the famous site considered three factors – the overall job satisfaction score, yearly base salary, and the number of job openings on the market.
What does an Enterprise Architect do?
EAs are responsible for building the software architecture for the entire organization. This means that they have the say when it comes to defining the company's technology strategy. Among others, their work circles around:
Evaluating and recommending the best software language or technology for each business case

Developing documentation, proof of concept, and best practices for the software team

Constantly auditing and ensuring compliance with the tech strategy across the organization

Being the face (and brain) behind implementing new solutions, i.e., building the implementation plan, managing the budget, and communicating progress to other stakeholders

Working with other team members (DevOps, Product Management, UX, and others) to understand their challenges and find the best suiting architectural solutions for the job.
Top skills you need as an Enterprise Architect
Enterprise Architects are a great example of Renaissance people, as they need to have a wide range of abilities up their sleeve. On top of the very basis of their role, i.e., Enterprise Architecture planning skills, the need to understand various frontend, backend, and infrastructural solutions. This allows them to make educated decisions and communicate effectively with fellow tech team members.
Finally, a good Enterprise Architect is one who knows how to make the company's data bullet-proof. They must be highly educated in security protocols, firewalls, VPNs, etc., to prevent attacks.
Salary  
The median base salary for this role is $144,997 in the US:

Source: Glassdoor
Data Scientist
Data scientist is another role, which we can add to our list of IT jobs in demand. According to LinkedIn, the number of Data Scientist positions in the US grew by 37%. It's a very attractive career path for those who are into math, data, and analytics. An increasing number of businesses realize the importance of data and look for individuals who can help them make sense of it. 
What do Data Scientists do? 
The job of a Data Scientist revolves around gathering and analyzing structured and unstructured data sets. They use it to create models, which help organizations make business decisions and eliminate guesswork. Since data forms the basis of their work, they also oversee its validity and cleanliness. A lack of accurate and complete data will result in flawed models, which can have serious business consequences. 
Top skills you need as a Data Scientist
Working with unstructured data – there are two types of data, structured and unstructured. While data scientists have to be able to handle both, the latter is the hardest to analyze. Data Scientists have to be able to gather and analyze all kinds of data irrespective of its source, including social media, emails, reviews, etc. 
Programming –  to become a Data Scientist, you need to be able to understand unstructured data, and in order to do that, you have to know how to code. The most common programming languages that are required include Python, Perl, C/C++, SQL, and Java, with Python being an absolute must-have.
Modeling and analytics – data is only useful if well-interpreted, which makes modeling and analytics one of the most important skills that every individual aspiring to become a Data Scientist must-have. Creating models, running tests, and predicting possible outcomes is what Data Scientists do, so no wonder they must have high proficiency in modeling and analytics. Additional skills, which can come in handy include Machine Learning, Artificial Intelligence, and Deep Learning. 
Salary
On average, a Data Scientist in the US earns around $134,416 per year.
DevOps Engineer
DevOps is an approach that's at the crossroads of two departments – development and operations (which is where the name comes from). It simplifies the road to implementing new tech solutions and maintaining existing ones. As each software project needs someone with DevOps expertise, it's not surprising that it's among the top IT jobs in demand.
What do DevOps Engineers do? 
DevOps engineers are responsible for combining code with application management and maintenance. Their main objective is to remove any potential silos between business-oriented folks and tech team members. DevOps specialists introduce new tools, workflows, and methodologies that aim to facilitate the entire software development process. From coding and maintenance, all the way through to deployment and updating existing solutions.
Top skills you need as a DevOps Engineer
Project management – while this might seem surprising (after all, isn't project management a project manager's job?) it makes perfect sense. After all, DevOps Engineers engage in strategic planning and need to synthesize the work of various teams. They assess DevOps project risks, analyze the costs and advantages of solutions, set operational expectations, and work on the project timeline.
Coding (both writing and editing) – while DevOps specialists aren't usually expected to write code, they need to have an understanding of the languages and frameworks in the company's tech stack. The reason is that they cooperate with and advise software engineers on the most fitting workflow and/or tech solutions. 
System administration – this area involves server management, monitoring security systems, implementing databases, and ensuring connectivity among internal and external systems.
Salary
The average base salary for DevOps Engineers stands at $118,334 in the United States, as of 2022.
Machine Learning Engineer
According to LinkedIn, Machine Learning Engineer is the fourth fastest-growing job in the United States. As the amount of data available to businesses is increasing, so does their need to draw insights based on it, and to do that they need to have ML Engineers on board. 
What do Machine Learning Engineers do? 
In short, ML Engineers are programmers on steroids. They create Artificial Intelligence systems, which learn based on the data they're fed with. They're used to tackle complex tasks, in the same way a person would, just much more efficiently and with fewer errors. This helps organizations make informed business decisions, backed by data, which is why Machine Learning is one of the top IT jobs. 
Top skills you need as a Machine Learning Engineer 
Natural Language Processing – in order to make sure that AI systems resemble human brains as closely as possible, they have to be based on Natural Language Processing. That's why to become a Machine Learning Engineer you have to be proficient in multiple NLP techniques including Word2vec, Sentiment Analysis, Summarization, Gensim, and NLTK.
C, C++, and Java – to create ML algorithms and make sense of complex data, you need to know how to program, especially in C, C++, and Java.
ML algorithms – this one won't surprise you – Machine Learning Engineers have to know all ML algorithms. There are four main types of algorithms, all serving a different purpose, including supervised learning, unsupervised learning, semi-supervised learning, and reinforcement learning. 
Applied mathematics – a lot of ML algorithms are based on statistical modeling, so being good at Maths will come in handy. Some of the branches of mathematics, which you should master are linear algebra, probability, statistics, multivariate calculus, and distributions like Poisson.
Salary
A Machine Learning Engineer in the US earns on average $112,456 per year. 
Product Owner
There are a few reasons why the Product Owner role is one of the top IT jobs. For starters, it has a relatively soft learning curve for those who don't have a tech background. Secondly, it's a crucial role for companies that follow Scrum, one of the most popular agile methodologies. And, given that in the report by Digital.ai, 94% of companies claim they work according to Agile, it's easy to see why there's such a high demand for Product Owners!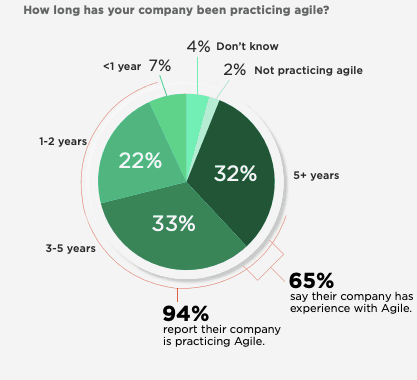 Source: digital.ai
What do Product Owners do? 
Product Owners are primarily responsible for so-called "sprint planning". They translate the Product Manager's vision and needs into deliverables. Among others, they define and organize user stories in the backlog, turn them into tasks, and plan them out in weekly/bi-weekly development cycles. It's their responsibility to make sure that each product team member understands what's expected of them, and that work is delivered as planned.
Top skills you need as a Product Owner
Communication skills – this is the single most important skill expected of a Product Owner. If they can't communicate effectively, the product roadmap is likely to derail. They need to be as effective in communicating the goals to developers, as they are to designers and other stakeholders in the project.
Understanding of software development & the product lifecycle – Product Owners don't have to be former engineers or designers. Still, it's important that they understand how software development works so that they can put themselves in their team members' shoes and understand their point of view, challenges, and needs. 
Decision-making – Product Owners are decision-makers. Every day they come to work, they have to make at least a few product-related decisions. In the words of the people behind Scrum, from "what to put in the product backlog, how to prioritize them, and how to best communicate the same to the team".
Salary
The average base salary for a Product Owner in the United States stands at $102,972 per year. 
Data Analyst
By now you have probably realized that most jobs listed in our article revolve around data, so it's a no-brainer to add Data Analysts to the top IT jobs for the future. They're in high demand irrespective of the sector. Especially in finance, consulting, manufacturing and pharmaceuticals.
What do Data Analysts do? 
The main role of a Data Analyst is to take a deep dive into data and magically turn it into actionable insights that businesses can use to make decisions. Data Analysts' tasks and responsibilities can differ between companies but they mainly circle around: collecting data, keeping it clean and up to date, analyzing it, and producing automated reports. 
Top skills you need as a Data Analyst
SQL – to extract data from databases you need to know a programming language called SQL. A great majority of job listings place SQL skills on top of their requirements. No wonder, since pretty much all businesses store their information in databases. After you get the data, you need to use the right tools to analyze it, which leads us to the next point. 
Knowledge of business intelligence tools – data gathering and analytics is just part of a Data Analyst's job. They also have to nicely display the results and turn them into a report that is updated automatically, so that various stakeholders can easily access it. In order to do that you have to know how to use business intelligence tools like Tableau, Looker, or any other alternative. 
Statistical programming – as a Data Analyst you'll have to perform advanced analytics on large data sets, which is why you'll need to be skilled in statistical programming languages like R or Python, on top of SQL. 
Salary
A Data Analyst based in the United States can expect a salary of $65,226 per year, plus a $2,500 cash bonus. 
Java Developer
While Java was released all the way back in the mid-1990s, it's far from being an outdated technology. Quite the contrary! As of 2022, it's the 5th most popular programming language in the world, according to Stack Overflow. So, you can see why it's also one of the best jobs in technology.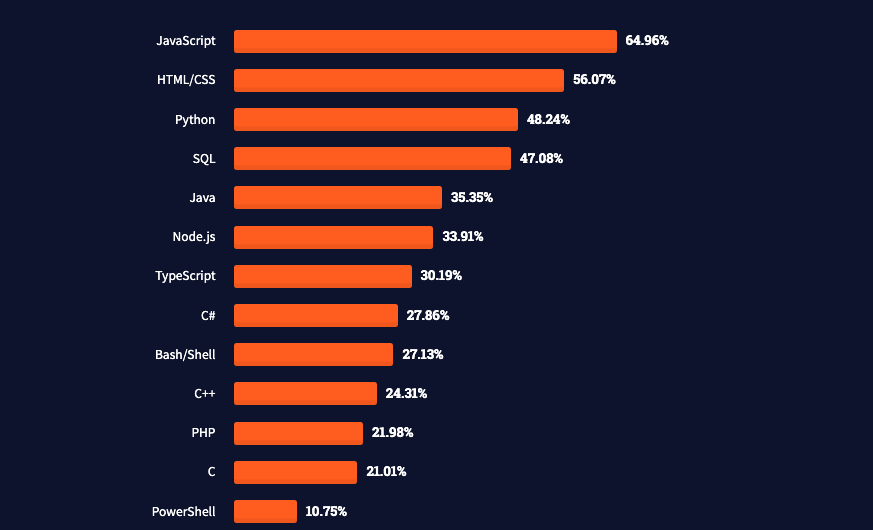 Source: Stack Overflow
What do Java developers do? 
They're primarily responsible for developing and maintaining applications that operate on the basis of Java. Since it's so popular and used across thousands of solutions, their daily roles will vary greatly depending on the project or organization they work for.
Top skills you need as a Java developer
Knowledge of Java systems & updates – understanding pure Java is one piece of the puzzle. The other half is staying on top of the newest versions, which are released quite frequently. As of March 2022, Java was on its 18th version, with new updates rolled out every six months or so.
Understanding of Machine Learning (ML), Artificial Intelligence (AI), and Data Science – Java is one of the top languages leveraged for some of today's hottest industries. Many of the tools used for big data projects rely on this technology. For this reason, high chances are that you're going to work on an ML, AI, or Data Science project as a Java Developer. And so, you should stay on top of the trends and newest solutions across these industries.
Object-Oriented Programming – This is a basic Java skill, which allows you to organize your software architecture around data (objects), rather than logic. While it's a topic for a whole separate article, this skill helps you build software that prioritizes the safety and stability of your code.
Salary
The average salary for a Java developer is $93,084 in the United States, with up to $18,000 in benefits and additional pay. 
.NET Developer
Many tech giants like Microsoft, Siemens, and Samsung use the .NET platform. It is also one of the most loved frameworks among developers in 2022, which is one of the reasons why .NET Developers are in such high demand. 
What do .NET Developers do? 
.NET developers are programmers who develop software based on Microsoft's .NET technologies. They take care of the design, implementation, and product development, which must all be in line with the technical needs.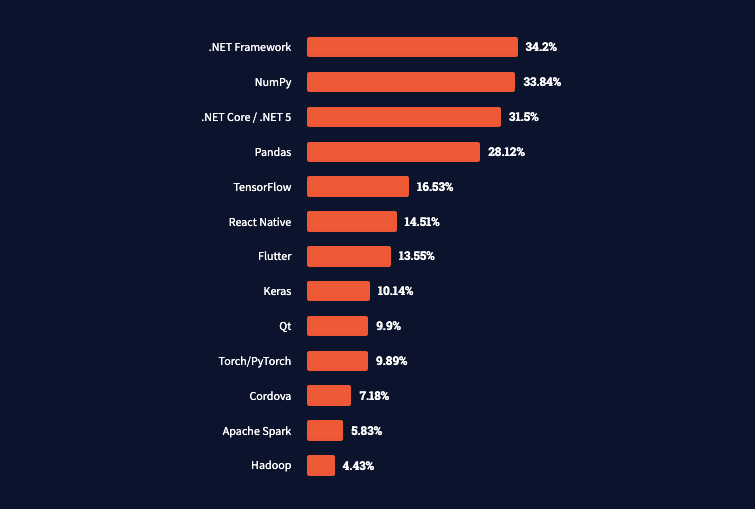 Source: Stack Overflow
Top skills you need as a .NET Developer
ASP.NET MVC – .NET Developers must be fluent in ASP.NET MVC. Not only does it allow them to quickly and efficiently build software thanks to accessing client-side technology. It also lets them control every single feature of a web app. This framework has replaced all the previously used ones.
Programming – all .NET Developers must know C#, F#, and VB.NET. They're also required to have a good understanding of database applications such as SQL Server, NoSQL, and Oracle.
Client-side technology – programmers who are familiar with client-side technology such as HTML, CSS, JavaScript, and Bootstrap are even more employable. It allows them to build interfaces, which are not only pleasing to the eye but also easy to navigate around. 
Salary
.NET Developers in the USA can on average earn $98,328 per year. 
NFT Creator
While you won't find this role in "top IT jobs for future" rankings, it seems to be a matter of time. NFTs (non-fungible tokens), also known as 'digital collectibles', are made to be unique – just like many of their physical counterparts. To guarantee that anyone buying an NFT has something that's one of a kind, there's now a huge demand for NFT creators.
What does an NFT Creator do? 
NFTs come in all forms – from simple drawings to sophisticated, immersive VR/AR experiences, or even poetry. So, the daily work of an NFT creator also depends on the type of collectible they're building out. Drawing, playing the piano, 3D modeling, and sound production are all on the table.
Top skills you need as an NFT Creator
As mentioned above, an NFT creator needs to have the qualifications required to create a digital collectible someone will want to purchase. However, there are a few skills common for this role.
Creativity – there are millions of NFTs on the market, which means you need to be creative if you want your art to stand out. This is particularly the case if you're going to create original music, paintings, or action figures (i.e., aren't creating a digital version of a physical item, like a designer handbag).
Knowledge of NFT trends – as with any emerging space, the world of NFT is changing dynamically. As of mid-2022, it's all about Web 3.0 and Metaverse, but how it will evolve is still unknown.
Entrepreneurial spirit – this one is particularly applicable to freelance artists, who create and sell NFTs on marketplaces or create NFTs for brands as independent contractors. Knowing where to advertise your skills and art will do wonders for breaking into the digital collectibles market. 
If you're interested in learning more about becoming a digital collectibles creator, be sure to give our dedicated NFT career guide a read!
Salary
As NFT creators can be 100% full-timers or 100% freelancers, it's hard to put a pin on their salary. If you search online forums, you can see that some creators mention salaries as low as $36,000 or up to $76,000 a year. When it comes to freelance work, the average NFT royalty typically ranges from 5-10%.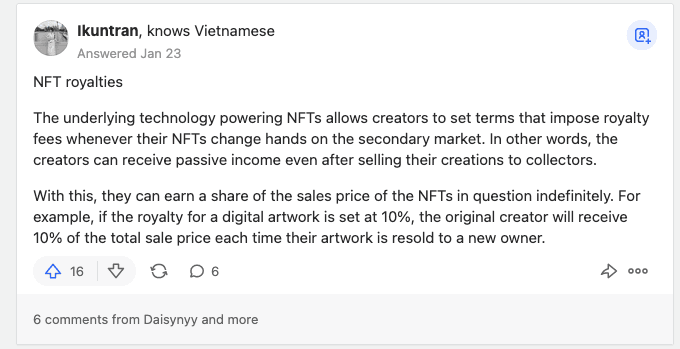 Join MVP Match to get access to top IT jobs
It's a great time to look for new opportunities in the tech sector, as job offers are plenty. While most of the roles call for a data-driven mindset and an understanding of software development, there's also room for people with great organization skills and a creative mind.
If you're looking for new projects, consider joining our elite freelancer network. By becoming part of the MVP Match community, you:
Gain the opportunity to work on exciting, challenging projects

Get feedback from clients to constantly refine your skills

Can focus on your work and professional development, without worrying about formalities.
Ready to find your new role? Join our freelancer community!