In the last 20 years the way we understand the workforce has changed drastically. Both the US and EU job markets have seen a rise in freelancers. In the US, it is estimated that almost half of the population will be freelancing by 2027 and in Europe, this is currently 11 million workers. The rise stems from the aspiration to work autonomously and with the flexibility to control the way one works, with whom they work, and from where they work; in other words, this is the freelancer revolution. And this movement is here to stay. If anything the pandemic has just accelerated the "great resignation" and blurred the lines between work and home. Simultaneously, more and more companies, of all sizes,  are leveraging freelance talent for their tech and business needs. For small-medium businesses (SMB) it is estimated that over 70% of organizations have used a freelancer in the past. Moreover, 80% of these companies are happy with the benefits and are planning to hire freelancers again. Yet, in several opening conversations with first-time clients, we have heard doubts and concerns around the opportunity to work with freelancers. We have coined these "Freelancers Myths" and we feel that it is our duty to debunk them. It is important to understand why companies hire freelancers and what questions arise in the decision-making process.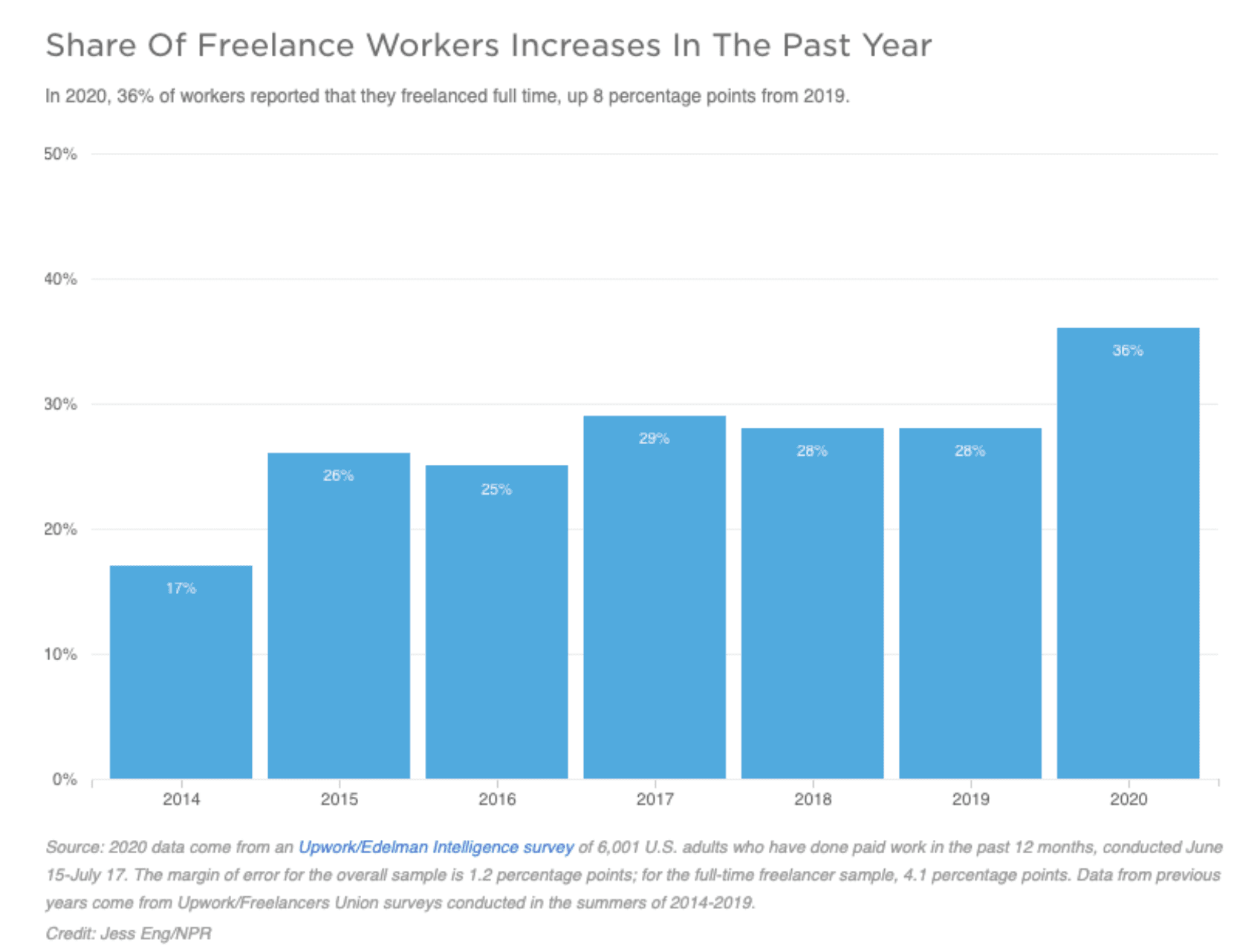 This is why we are now launching a new series: Freelance Myth Buster. We will address the myths surrounding hiring freelancers and explaining the reality and benefits of incorporating them into your current team. 
One of the biggest misconceptions that we hear is that hiring a freelancer is very expensive, more so than recruiting a full-time employee (FTE). One of the deciding factors for your staffing strategy will be the impact and value that the talent brings to the company as a whole -  whether this is as a permanent or temporary solution. But, one of the biggest concerns is still the most obvious one: Cost. Below we break down the truth of the costs associated with both staffing options to give you a better picture of the whole situation.
Permanent Employee Costs Are Greater Than Just Salaries 
Often as hiring managers, what is understood as a "hiring" cost is just the base salary for the role. But in reality, it takes many more resources, such as time, energy, focus, and additional recruitment and training costs for each individual. Let's break it down. The costs of hiring an in-house employee consist of their salary, bonus, (health) insurance, paid vacation and sick leave, retirement, payroll taxes, workers' compensation, equipment, and additional benefits. According to the Small Business Administration, the general rule of thumb is that the real cost of a permanent employee is 1.25-1.4 times that of the employee's salary. Beyond hiring costs, there are also additional costs depending on your location, such as paid parental time, commuter reimbursement, workers' compensation insurance, 401(K) or other additional pension plans, costs of personal work devices up to 5K to cover costs such as laptops, vehicles or at WFH set-ups.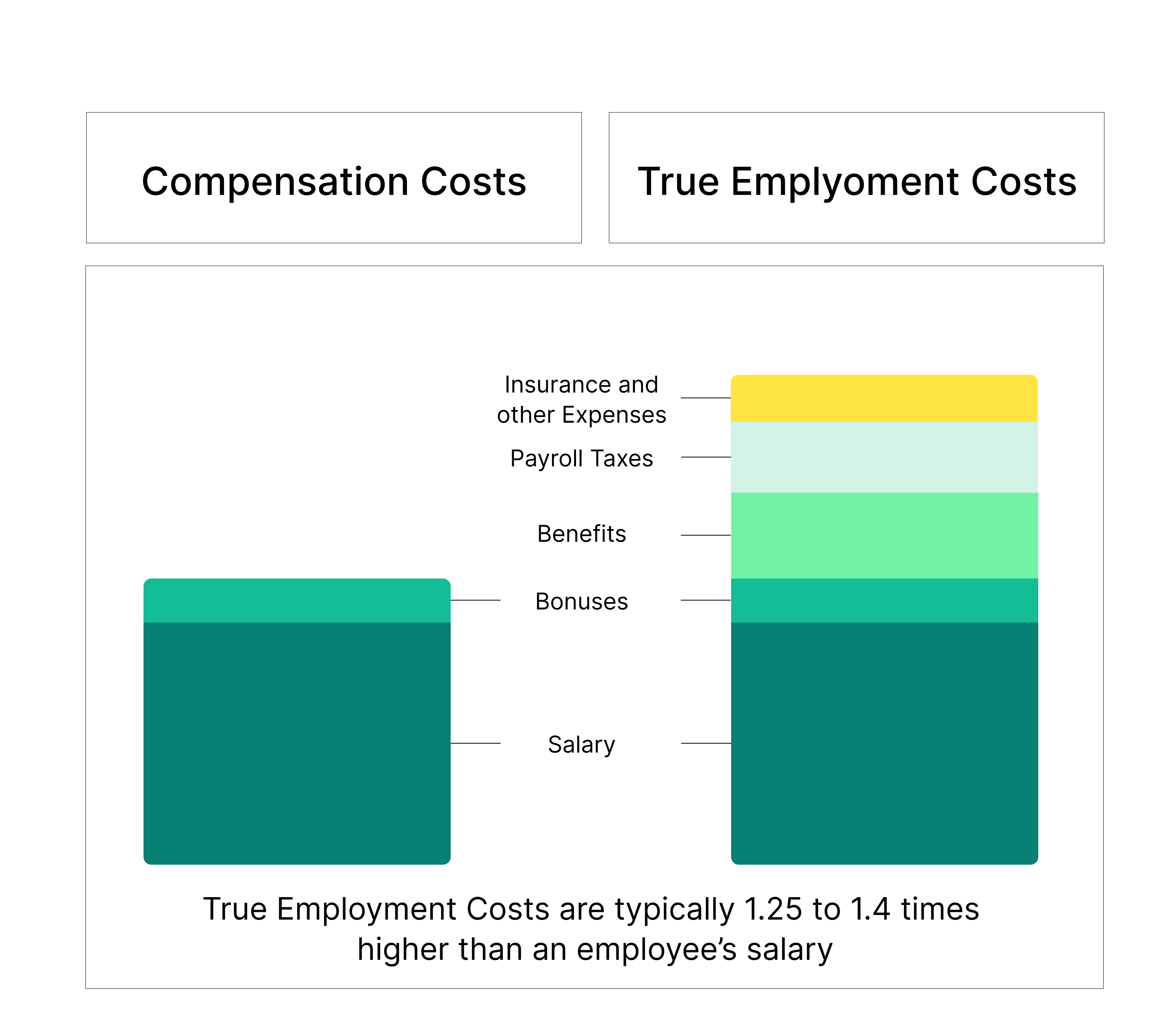 A breakdown of employee costs beyond the base compensation.
Recruitment and Onboarding Costs are Much More Than You Think
Beyond the employee's costs, we need to consider the additional recruitment costs and resources it takes to find the right candidate for the job. There are internal recruiting costs: time dedicated to defining the scope of the role, creating the job description, and distributing it across multiple job boards. Often these premium platforms will take a high fee for listing the open role or work on a recurring subscription model. Several of these tools also have additional costs once you have hit your "limit" or want to see "premium profiles". This process is also quite time-consuming for your HR team, who spend active time sourcing, screening CVs and cover letters, and then finally interviewing candidates. The interview loop is one that is lengthy and often the recruiter needs to start back at step one if the hiring manager is not impressed by the presented profile or in some cases the candidates themselves will pull out of the process. This process is greatly dependent on location, industry, and title but on average this process can take up to 52 days and cost the company $4000 dollars.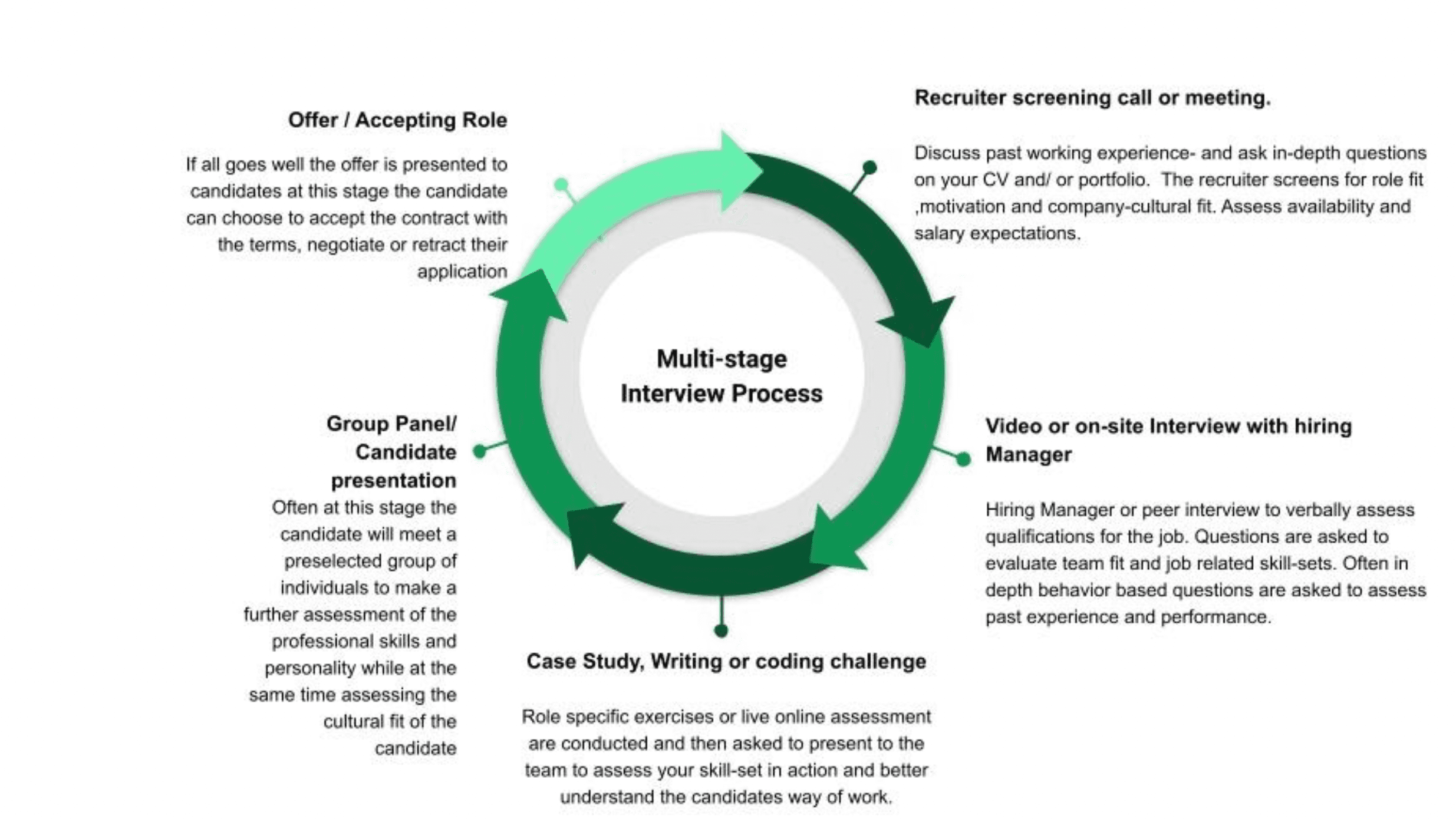 An example of a traditional interview process.
Keep in mind that once the interview loop has closed and the candidate accepts the offer the work is not done. Now comes the contract preparation, negotiation of terms, and ultimately the waiting time for the candidate to start the job. In some countries like the US, a typical start date is two-weeks from when the offer is accepted but in European countries this can be up to three months as this is the standard leave of absence. Waiting this long can mean losing out on substantial business opportunities.
Onboarding and mentoring are also things to consider when hiring a new employee, with this process typically takes 3 months. This stage is crucial for new employees as the success of retention is heavily dependent on the completion of a thorough onboarding process. A structured onboarding process does not only help provide structure and support for the new team member but it can also improve retention of new hires by 82%. The study also claims that a strong onboarding can boost productivity by 70%. And after seeing the lengthy and costly process of hiring, it is crucial that companies invest time and resources at this stage.
Outsourcing the Recruitment Process
SMB owners spend 40% of their working hours on tasks that do not generate income, such as hiring. This is especially true for roles that are hard to fill because of seniority or positions that require a special skill set. This is why more and more companies are outsourcing their payroll, hiring, and human resource management to external companies. This can be a good solution to speed up the process of hiring and onboarding but it is important to consider at what cost you are saving time and additional resources. Most traditional recruitment agencies and headhunters use different models for their services. While typically firms work on contingency, meaning that you will not pay the "fee" until you have signed the candidate and at this stage, the agency gets 20-40% of the annual salary.  However, several pricing models exist such as retained search which is a recruitment fee calculated on the annual salary of the position. Another option is contract search where you pay an external recruiter on an hourly basis. But on average, you can expect to pay an additional 30% of the annual salary to secure a senior profile or a hard-to-fill technical role. 
Lastly, regardless of whether you handle your recruitment in-house or outsource it, perm contracts often have additional variable costs such as location, relocation and visa fees, industry and/or market conditions, seniority of the role, company size, employer branding, and reputation.
On the Flipside: Freelancer Fees Broken down
Typically, freelancers charge different rates based on their past experience, industry, and location, similar to when a permanent candidate sets their salary expectations. The most typical are either fixed or variable pricing rates. The six most common types of billing strategies for freelancers are: hourly, daily, weekly rates, monthly retained, fixed-fee projects, or value-based projects either by a fixed rate or an hourly/day fee. With a fixed project fee, the freelancer sets their quote based on pre-agreed deliverables that will be completed within a specific timeframe. Alternatively, hourly, daily, or weekly billing can be used for projects where it is difficult to gauge the workload based on time spent. Often these are projects that require various feedback loops and need to be improved over and over again. These rates are personal and an experienced freelancer will know how to bill different clients across different projects. It is also common that freelancers offer variable pricing models. For example, a copywriter can provide a quote of 400 euros or an article of up to 2000 words with two feedback loops. But, once those loops have been exhausted, they could provide an additional hourly fee on top to make the additional changes. If you are starting out, there are several resources that can help you see here.  
Beyond their fee, there are no additional costs for the hiring company. The contractual agreement is made on the time spent to produce the agreed-upon work. 
Working with freelancers from MVP Match businesses can cut out all of the costs of perm hiring mentioned above for a fair, transparent fee of 20% instead of opaque margins that continue to dominate the recruitment industry. Our talent matching process combined with our technical consulting capabilities significantly reduces the involvement needed from our clients in scoping out the work to be done, communicating it to the outside world, attracting and screening the right candidates. Moreover, we are there to ensure that each project is an opportunity for success and growth for both parties. For a client, this means that all of the administrative tasks are handled by Match removing time spent on hiring efforts, cost, and mental hassle of getting the right talent when you need it.
Assess all Alternatives in Your Staffing Strategy
More often than not the solution is not just one or the other, but rather the combination of permanent core employees and project-based specialized freelancers. This combination ensures the best value for the company overall and allows the organization to find the best talent for the job. At Match, we believe that using freelance talent is an integral part of your long-term strategy as it does more than just "fill the gap":  it drives value, provides lasting impact, and drives collaboration within the core team. It enables you to complement your core team with just the right skills and capabilities just when they are needed allowing them to go beyond the expected. This is extremely cost-efficient.
Match has a transparent pricing model and works with highly skilled and vetted tech, product, and design professionals. Contact us now and we'll get you started with finding your perfect talent within the first 48 hours.